I currently have 3 Buff Orpington, 1 Silver Laced Wyandotte, 3 EE/Spangled Russian Orloff hens, 3 French Black Copper Marans hens and a French Black Copper Marans roo in my older coop.
In 2010 we built a 2nd coop with 2 seperated runs for my bantam cochin roo and his girls, 3 bantam cochins (2 frizzled) a Blue laced red Wyandotte, a light Brahama mix and an EE on one side and a splash Ameraucana roo, 3 Ameraucana hens and 3 Cuckoo Marans/Ameraucana hens on the other. I also have babies in both runs right now ~ the girls will stay and the boys will have to go.
We also have a great Beagle "Copper", 2 German Shepherd Dogs "Abby" & Chance" 2 grey male cats ~ Patch & Shadow, 1 old parakeet and assorted fish - both inside and in a pond, and lots & lots of honeybees!
My human family includes a daughter who graduated from college in May of 2008 (Yeah!) and now teaches English in a middle school in Japan, a step daughter who is grown and is a teacher in Martha's Vineyard, Mass. and a wonderful & handy husband who tolerates my many critters and flower gardens!
The old coop (before the stairs ...)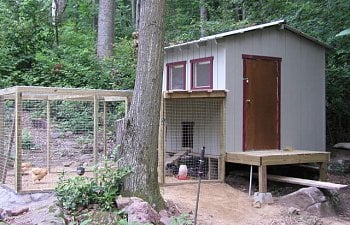 The Coop Inside...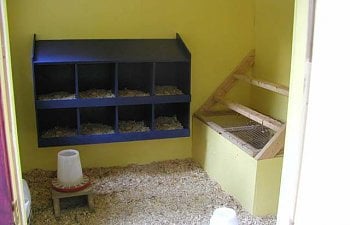 Some of the old Girls....