"The Chilton"
https://www.backyardchickens.com/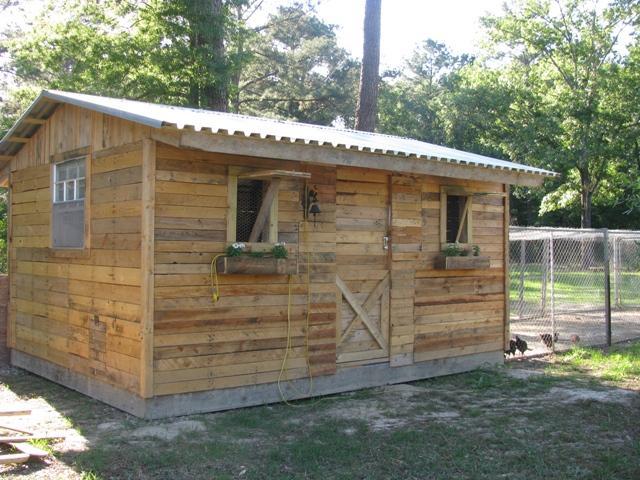 This is how our coop came about. We have two boys 11 and 7, our oldest son joined the 4-H Club at his school. He selected the Poultry project, two years in a row, no chickens 1st yr.. I put off ordering the chicks for over a year! After being asked over and over "When are we getting the chicks?", we ordered 25 from McMurray Hatchery and got a free exotic chick. Now proud owners of 16 Black Australorps, 9 Red Leghorns and 1 Black Crested White Polish. Oh, after the coop was complete that brooder box was so lonley so we added 5 Ameraucanas. And well the rest is history...we fell in love with our birds and started searching the Internet for chicken coops. Of course we found BYC and could not stay away from this site. Like stated this site is ADDICTING! I seen a coop design that was made out of pallets and we said if they can do it we can too. We began searching for pallets on craigslist and found a company that had plenty of them and they were pretty big. So we made 3 loads on the trailer, nail pulling began and lasted about 2 1/2 weeks! Whew that was some serious work!! No one said it was going to be easy. But very cost effective.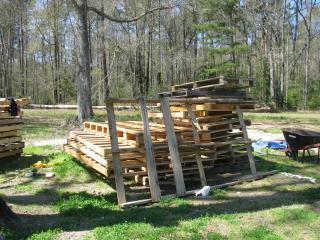 ​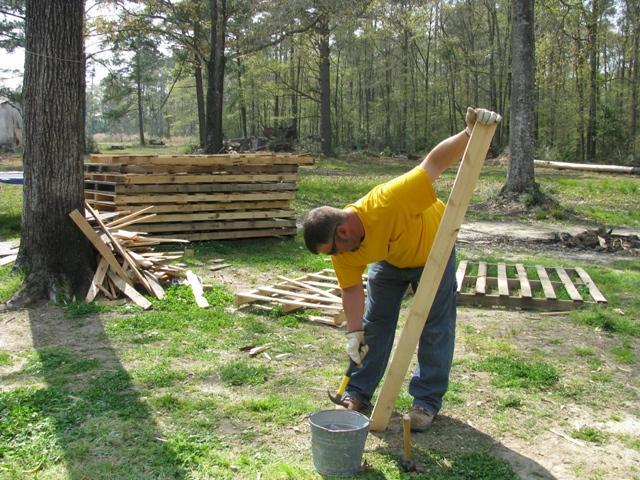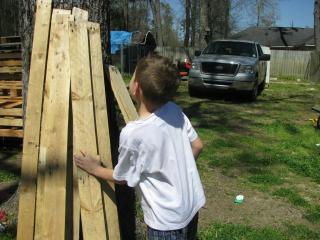 Day in and day out finally pallets turned into boards.................................
First we decided on a location that would be shaded in the summer and sunny in the colder months. We live in South Louisiana so it doesn't get that cold here. Husband dug 6 holes for post to be concreted in. Then layed out floor joist and secured with lag bolts. Next we put the floor on.
Construction begins...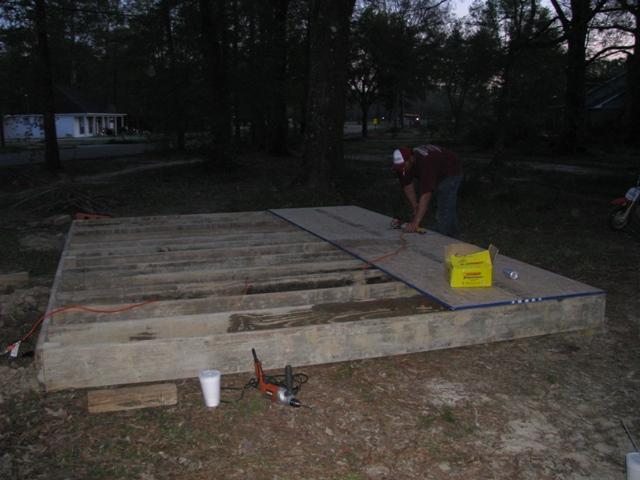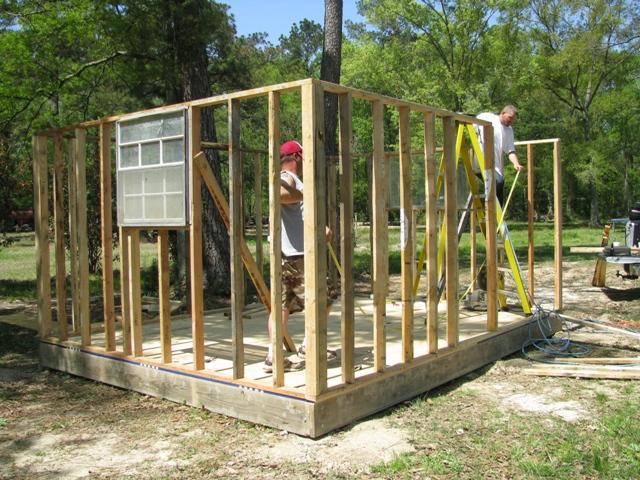 We are framing the walls!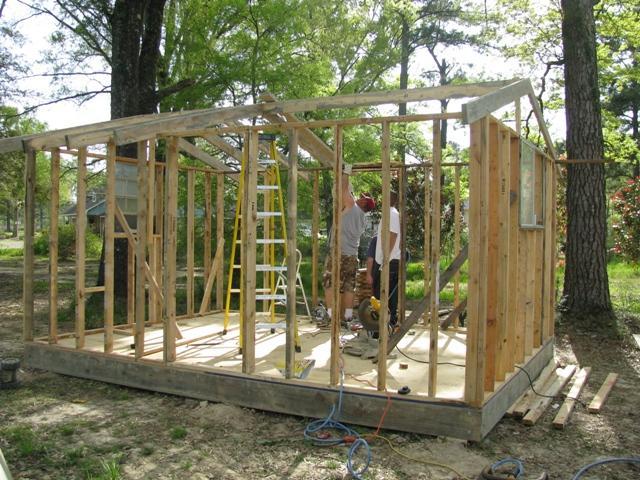 Rafters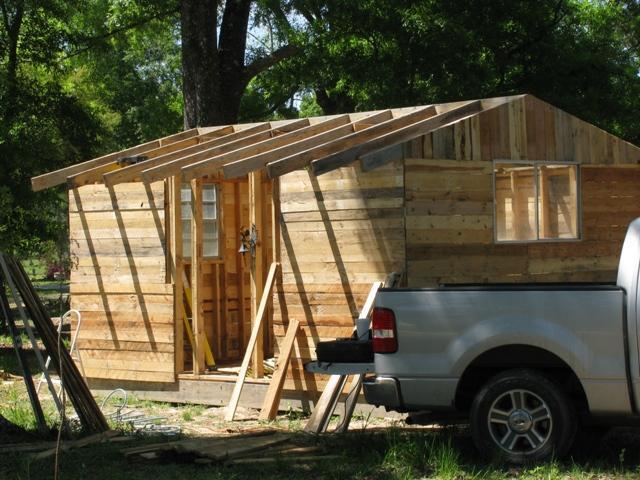 Putting the 1x4's on, getting closer!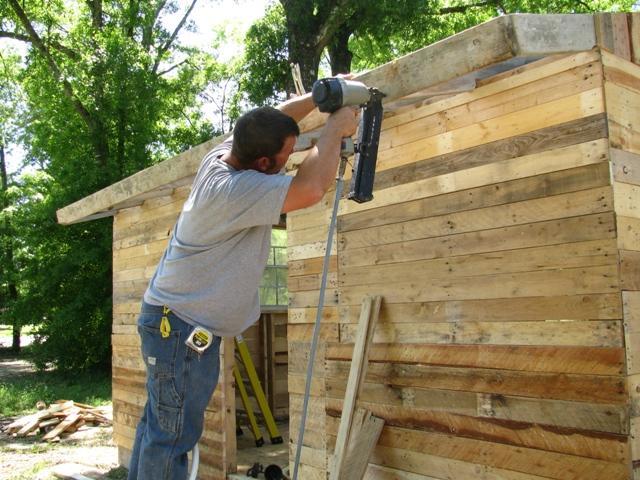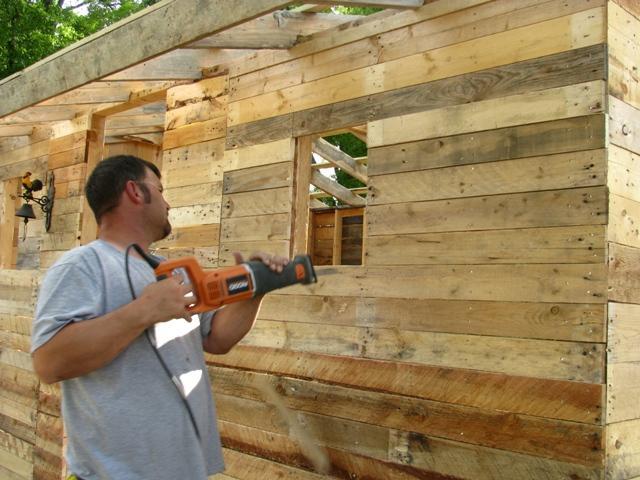 Hubby nailing the board for the eave. Oh, wait they need 2 windows in the front!
We secured chicken wire on the windows & trimmed
them out with 1x4's. Using the cut out boards for the
window cover.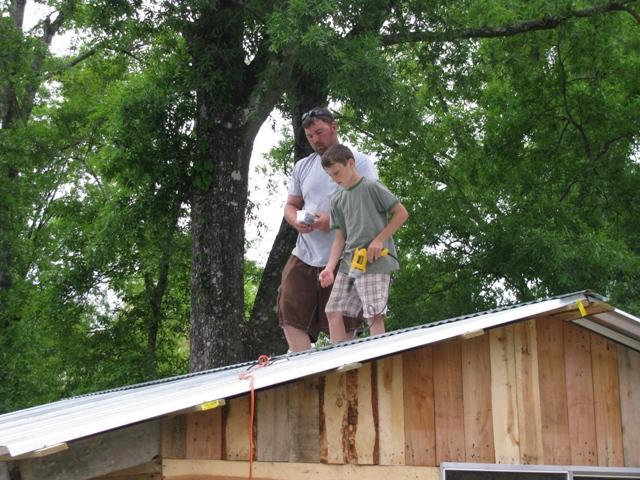 Our oldest son helping out with the ridge cap.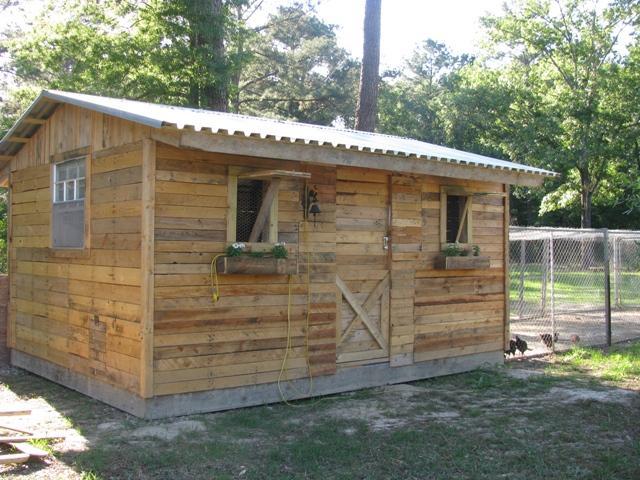 Front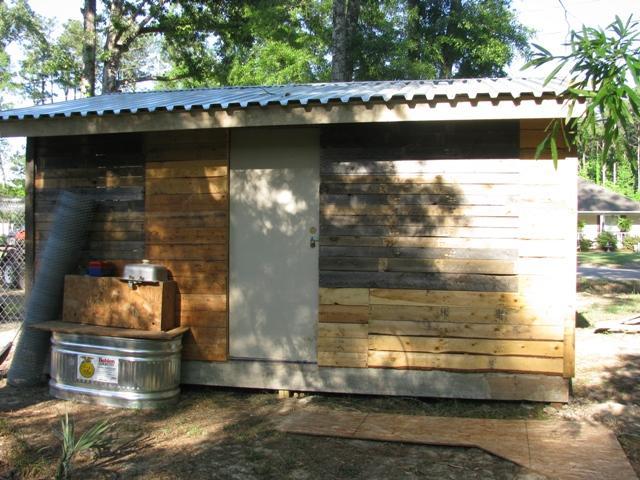 Back
Egg nest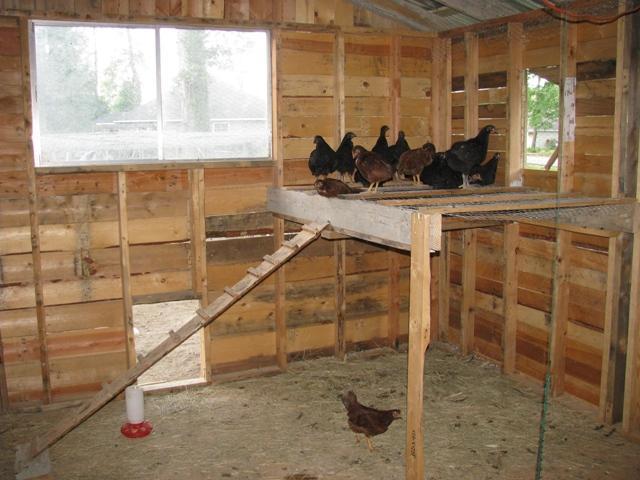 Roost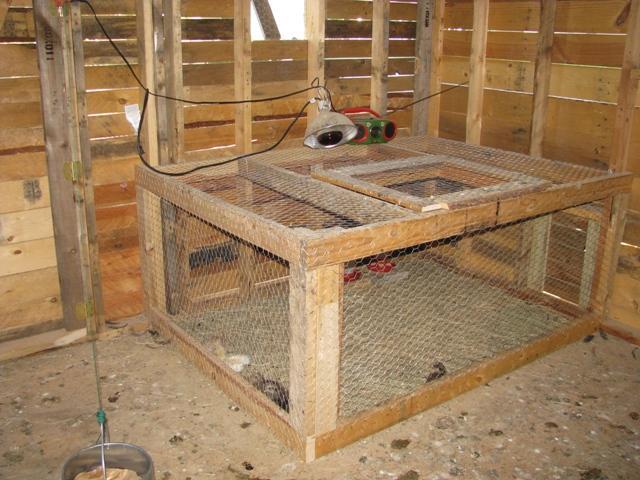 Brooder box with hinged door on top and and pop door for youth run we are getting ready to complete.
Here are a few pictures of the kids enjoying the chicks. We just love every minute of this.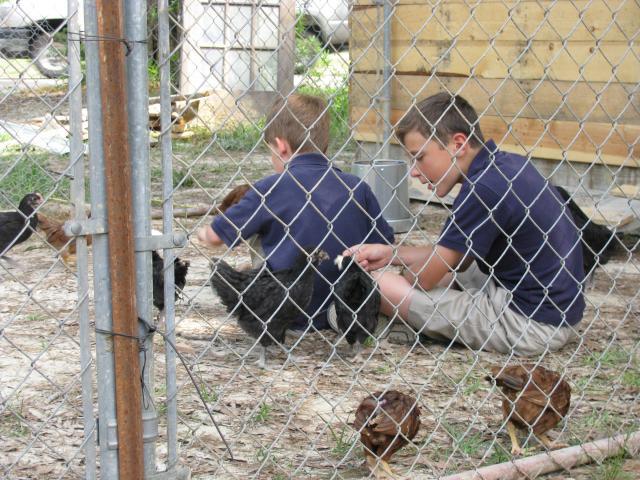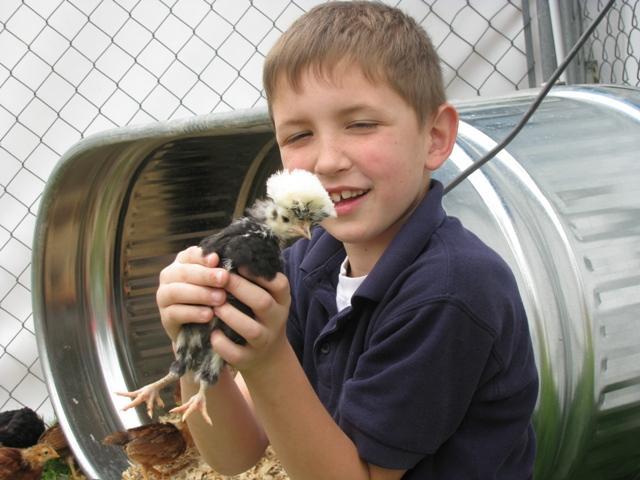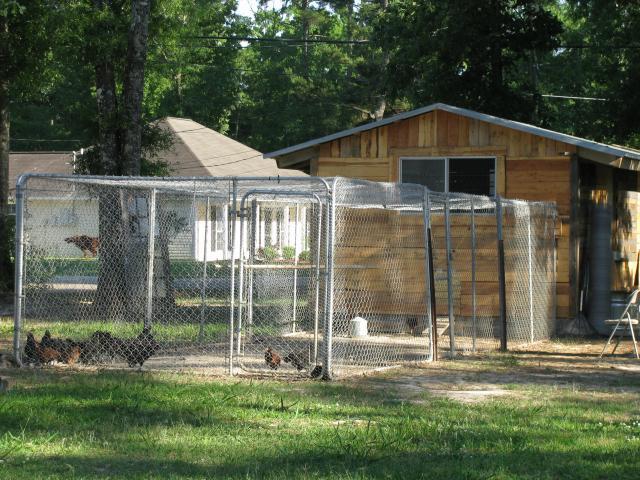 Run
10 weeks
As soon as hubby has time off from work we have an old refrigerator and sink we plan to put in the coop.
Things I would like to do in the future is put a pan under the roost to catch droppings, add a few windows to the back for more ventilation. One day soon we hope to paint the coop barn red with brown trim.
We didn't have any plans for the coop we just went with what came to mind and with the resources we had.
We constructed our coop from recycled pallets and other supplies given to us, not much was bought. All of our 2x4's framing boards came from the pallets also.
Here is a list of what we used:
2x4's for framing
1x4's for roof
12 ~ 2x10x16 for floor joist leftover concrete form boards from Husbands work
18 ~ 2x6x16 form concrete form boards
6 ~ Tongue and groove sheets of OSB for the floor, we later plan to use a deep litter method $80.00
Pallet boards for the exterior walls, front door,front windows and the planter boxes.
6 bags of quick crete $18.00
20 Lag bolts to secure the floor joist to the post in ground $16.00
Nail gun for securing all exterior boards
Deck pans someone gave us for the roof
2 recycled windows for ventilation
1 door donated
1 box of Wood screws with washers for screwing deck pans to rafters $8.00
1 box of Lap screw with washers for scewing the Laps on roof $8.00
Poultry mesh to cover run, screens for windows, brooder box and ventilation holes inside the coop. $96.00
12 Hinges and 6 latches $72.00
7-10x6 dog fence panels that we had and stretched chicken wire across the top of run.
1 ~ Ridge Cap $ 20.00
Grand Total $222.00