Tailfeather Cottage
"Really? We need chickens? Now?"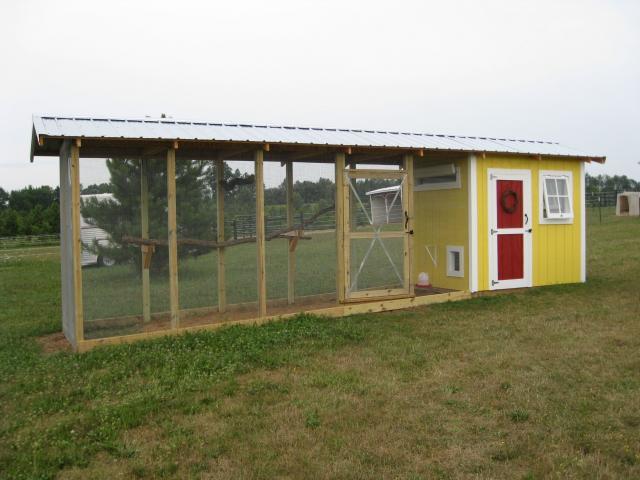 Our adventure began innocently enough as my husband and I realized our dream of owning acreage and finally planned to move our horses from a friends farm, home! The barn had taken some time, fencing was carefully planned and installed and moving day came. We could sit back and relax as we watched our happy boys graze in their new pasture. But someone should have warned us (or at least my sweet husband, as I knew this deep down already) that this was just the beginning. We needed to jump right into this farming thing! So the research began.
Farm magazine subscriptions replaced the fashion/entertainment variety. My summer reading list included books on homesteading, organic gardening and sustainability. The frequent internet searches brought me to BYC and I was hooked. More nights than I care to admit, I would find I had lost complete track of time (ie. wee hours of the morning) scouring the pages of amazing coop designs as well as the wealth of information on raising healthy peeps. I bookmarked several designs and started making my own wish list.​
Room for a dozen layers (Yes..I know..beware of the chicken math!)
Coop and run to be attached to raised bed garden eventually (composting, de-bugging before spring planting and after fall harvests)
This led to our (my) design: 6x8 coop with covered 6x20 run.
The coop design forum is where the many ("many,many, many...", adds my hubby) necessary details became evident.​
Ventilation!!
preditor proof!
2-3 nest boxes
plenty of roost space
..to start.
Armed with a drawing, I approached my husband (the one in this duo with the engineering/building know-how) with my plan.
"Really? We need chickens? Now?"
I smiled....BIG.
I ordered the chicks to be shipped the second week in June. Seeing as it was only March, I figured this would give us (DH) ample time to build the coop without pressure as we would have until the end of July before the chooks would be ready to move in.
And so it began:
The future garden and coop was laid out and my husband started setting the 4x4 treated poles. The project was designed to be built using pole building type construction methods rather than traditional home construction style framing.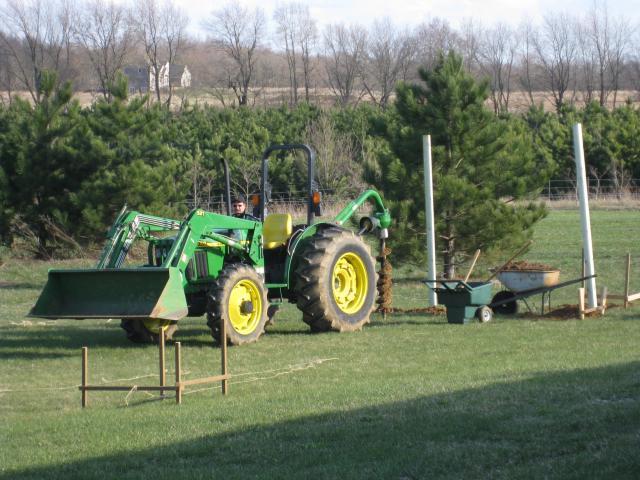 The tractor, thank goodness, made this job much easier than hand digging each one and the poles went in quite quickly. Our horses didn't seem to mind the noise and napped in their pasture nearby.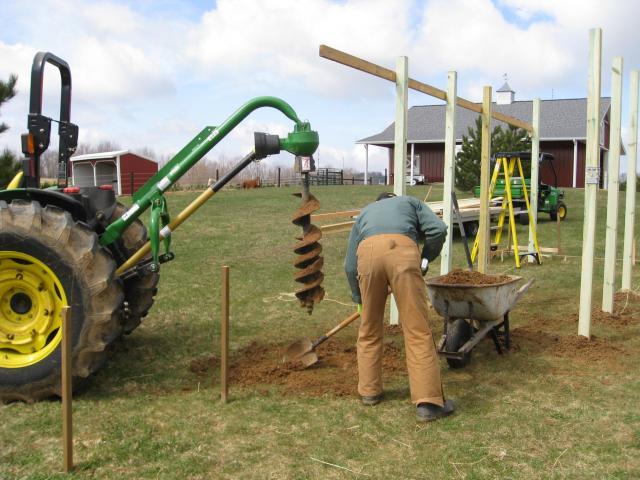 Poles and bracing in place, the rafters my husband built in his shop went up.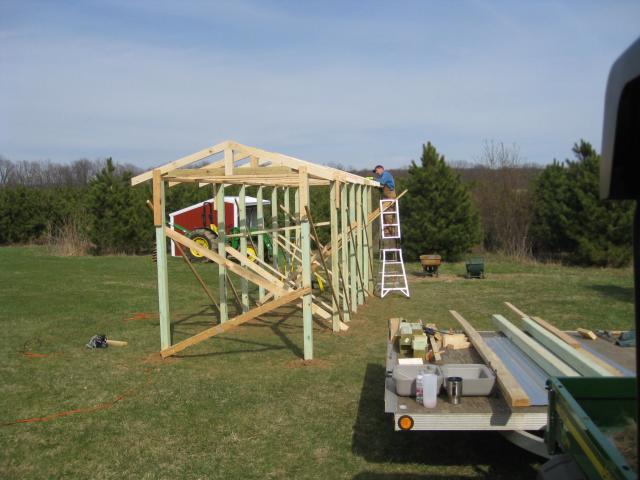 Starting to look like a building.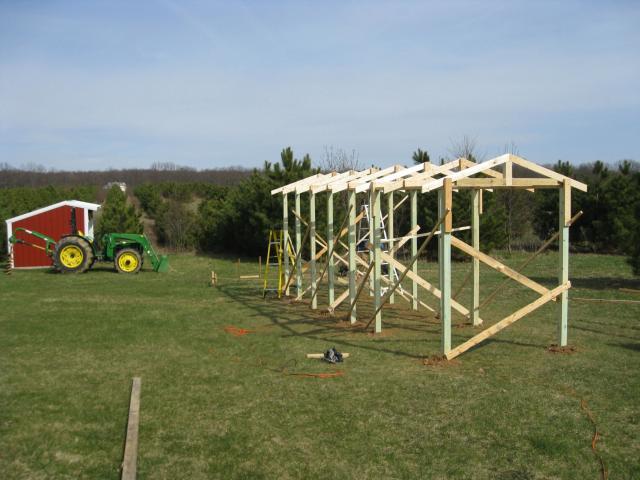 Hanging on with my toes, I help add the purlins that will support the galvanized metal roofing.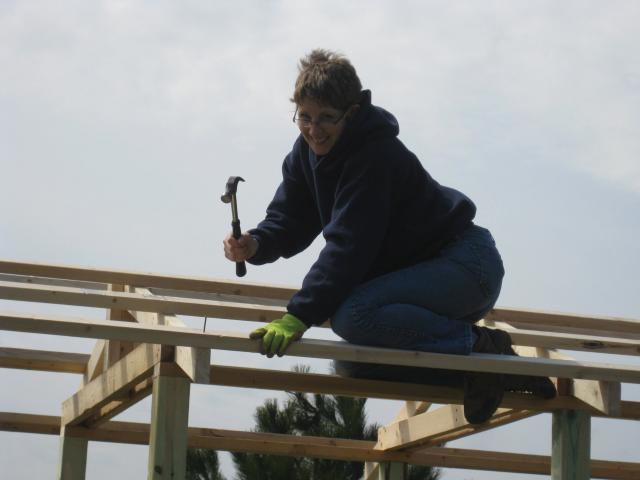 Much more comfortable with heights, my husband worked on the roofing.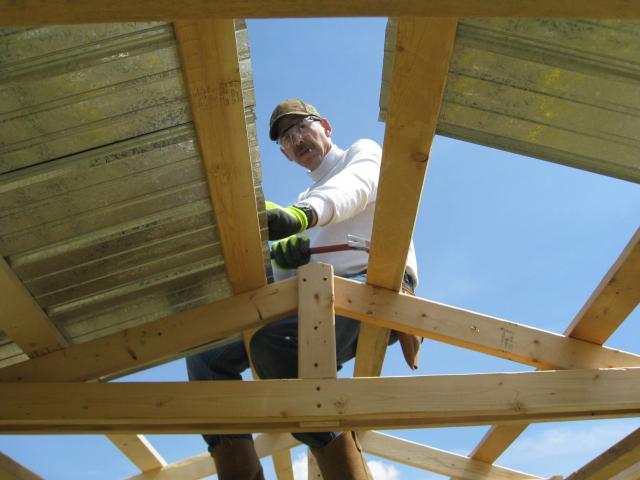 Finally the trees are starting to pop and we take advantage of a gorgeous Michigan spring day.
Roofing is complete. Using 2x6 treated lumber, joists were built for floor deck and covered with 3/4" plywood salvaged from our barn project.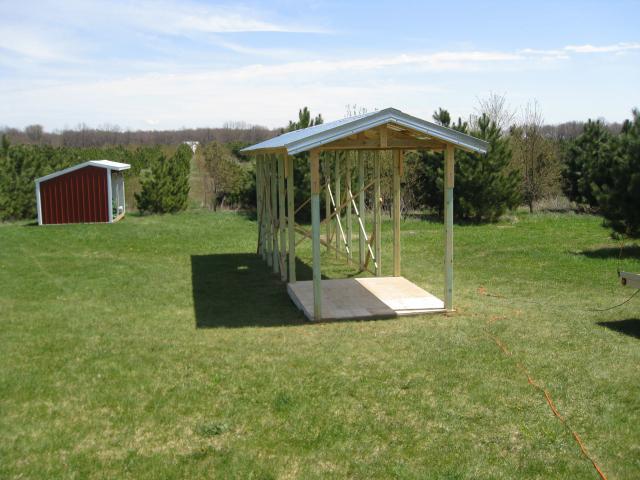 As I mentioned..I was ready to jump into this farming thing. So while my dear husband is continuing to frame the coop for windows, vents, and doors...I bring home my two adorable nubian bottle babies! Meet Nelle and Sophie!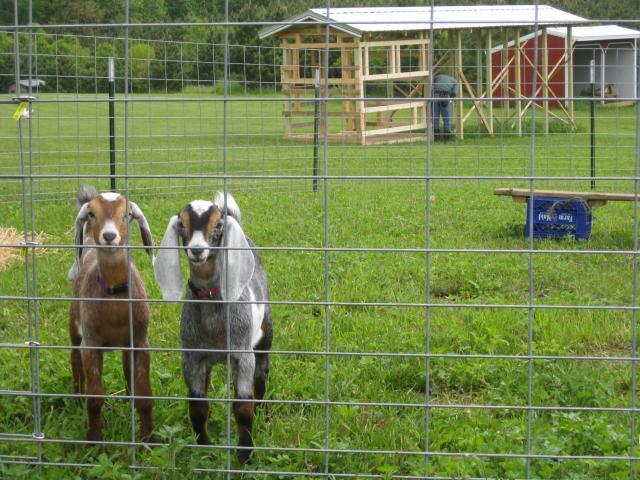 The girls inspect and approve their future neighbors new digs!
My sweet hubby has been busy and has windows in and siding, vents, egg door and trim coming along nicely.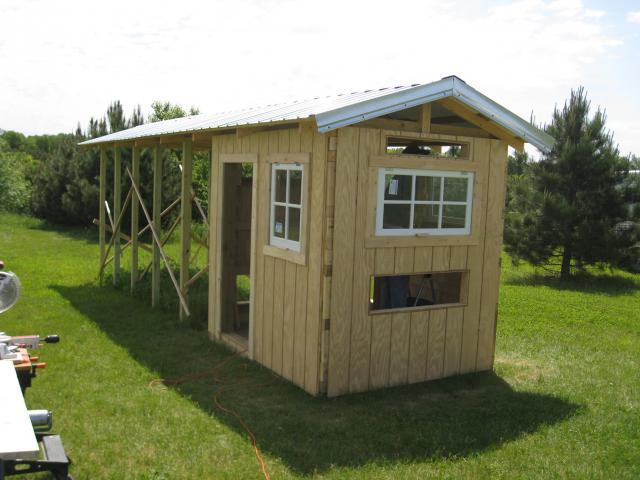 Looks like I should start on hardware cloth while he is finishing up these details.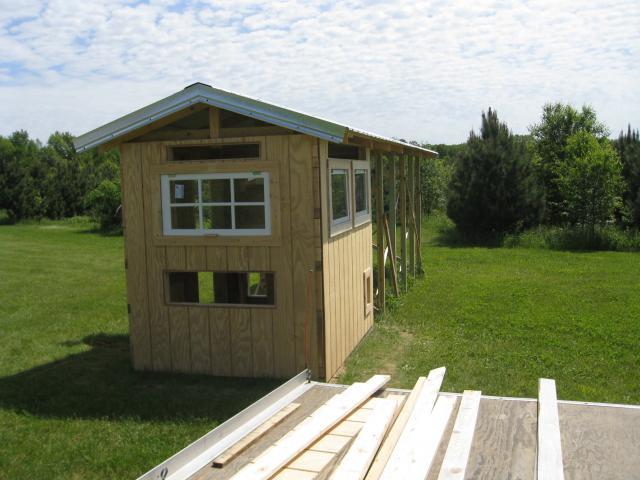 I added 1/2" 19 gauge hardward cloth on run and buried 18" in L-configuation underground as hubby finished trim and built doors and vent covers.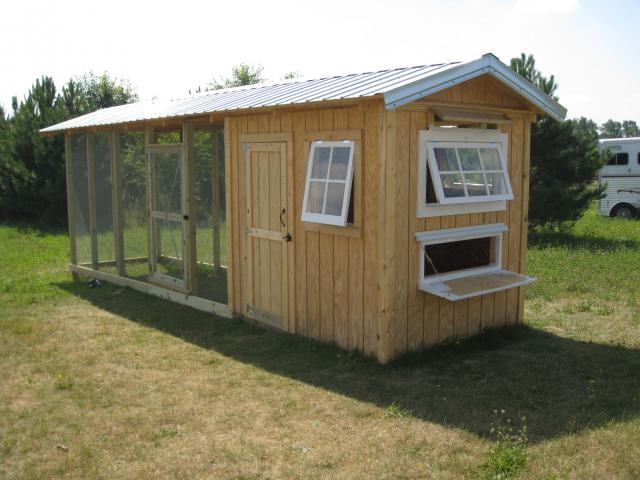 Now trim painting can begin.
Growing chicks enjoy finished run for first time while painting continues.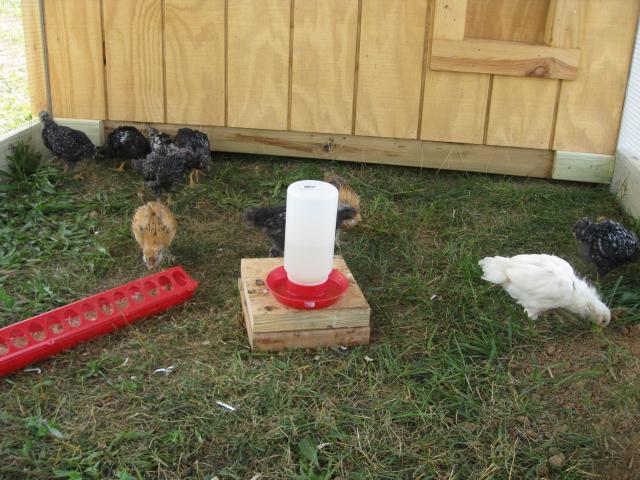 This grass stuff is alright!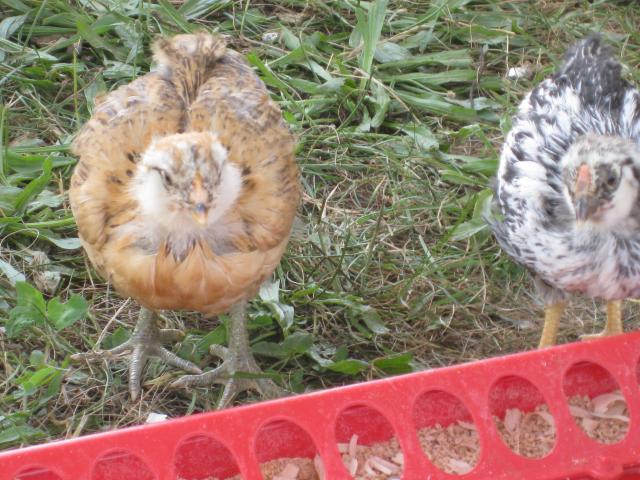 Weeks now of HOT weather! Chicks are so big and ready to move out of their cramped brooder. The camera got pushed aside so we could finish up with all the interior details and of course...all that painting!
Note: Nest boxes were originally to be set on outside of coop, but because we had ample interior room, and weatherproofing could be a real problem on this west facing wall, we put boxes inside and flashed the top of opening. EVERYTHING is caulked as well.
Small pop door on south facing wall will eventually allow me to let chickens into expanded goat pen.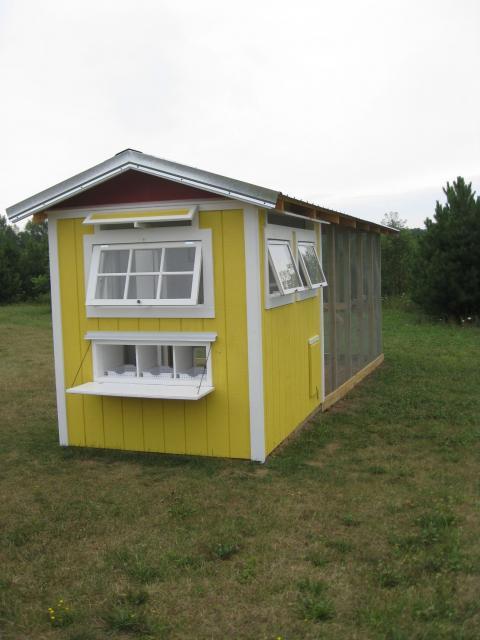 Yes..this is Martha Stewart
Yolk Yellow
from Home Depot!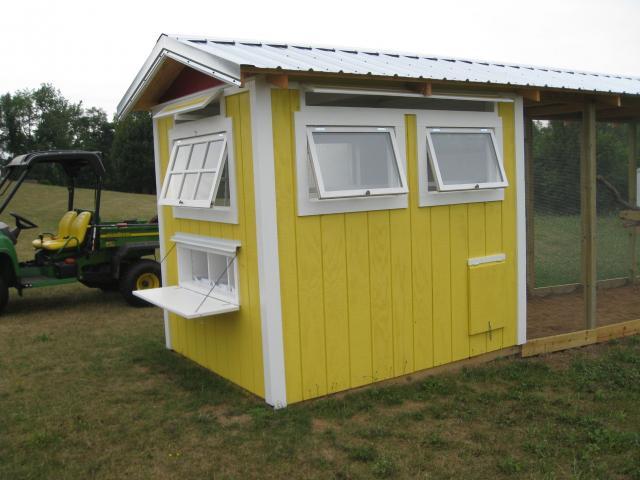 Interior is all insulated with 1 1/2" styrofoam then covered with scrap OSB which all was given two coats of semi-gloss exterior latex for easier cleaning.
Hardware cloth over all windows and vents.
Roosts are 2x4's, wide side up, at 3 1/2' and 4 1/2' heights with temporary poop boards.
This picture shows the half screen door (one of those.."OH, Honey?? Just one more detail that would be sooo nice...?") so that I can open coop door and observe/open pop door without the ladies escaping.
You can also just see the removeable board in doorway to hold back bedding.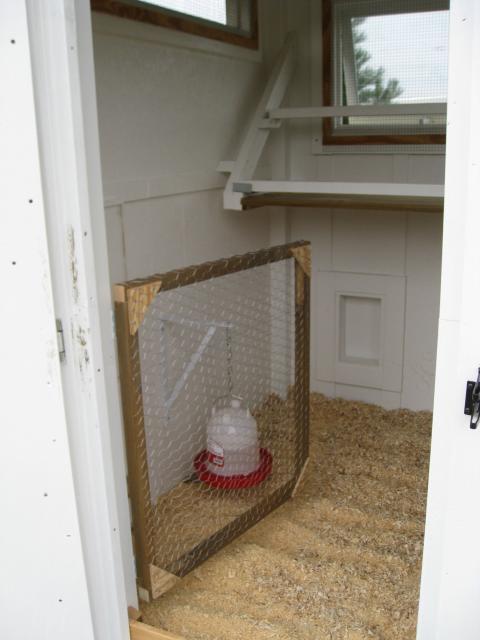 PVC feeder, one of many ideas gleened from all of you on BYC! Classy margerine tubs keep unwanted material out of filling tubes.
Sheet vinyl remnant on floor. We cut this 3/4" long on all sides, then tacked down with 3/4" wood strips rather than gluing so that we might change out if needed.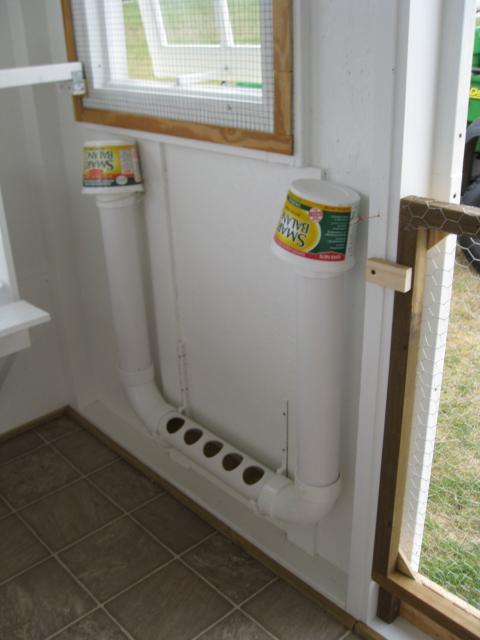 Pop door to run. Note that after having everything neatly painted with the semi-gloss, we had to sand off the paint in the track of door as it was too sticky to move freely.
Currently I lift this manually from coop door, but have the add-a-motor (BYC Idea) to be installed when electrical is completed.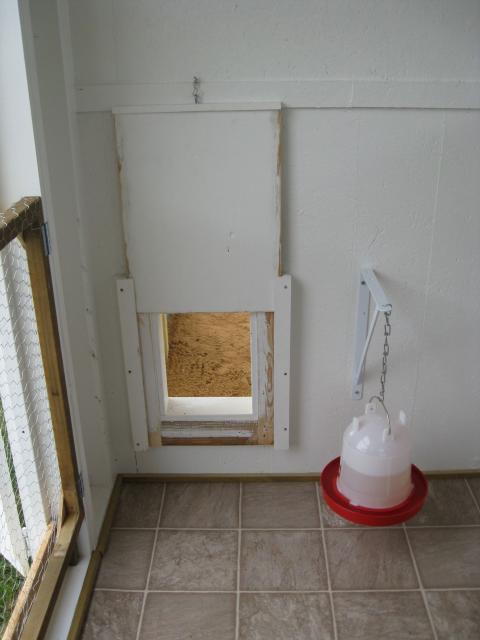 Still trying to determine what to use for poop boards under roosts and on top of nest boxes.
6" board hinged on front of boxes can be lowered for landing pad when the ladies are ready to lay.
Removeable plastic totes fit inside boxes so that I can remove to clean when necessary.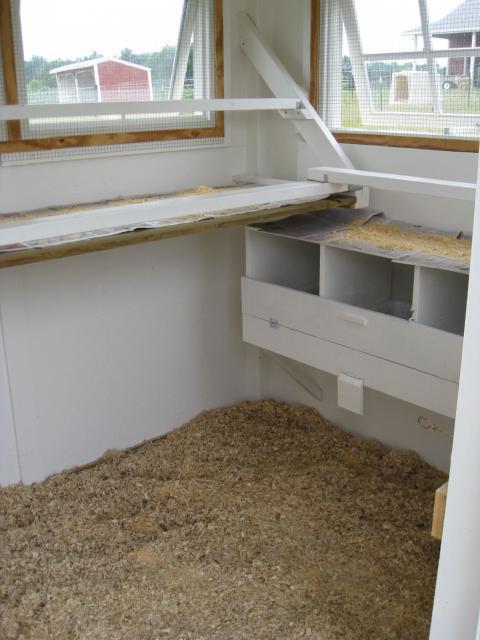 Roosts added to run. Currently the 9 week young ladies aren't trying them out. That top one is pretty high!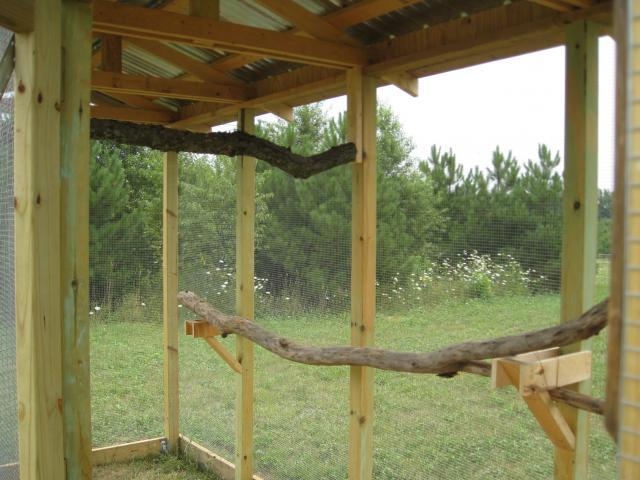 Sand also added to run, with future plans to plant a "salad bar" in last bay of run area.(BYC. BYC!)
I think we are ready for move in!!
But first, my dear husband decided after all this work, we needed to have a ribbon cutting ceremony!!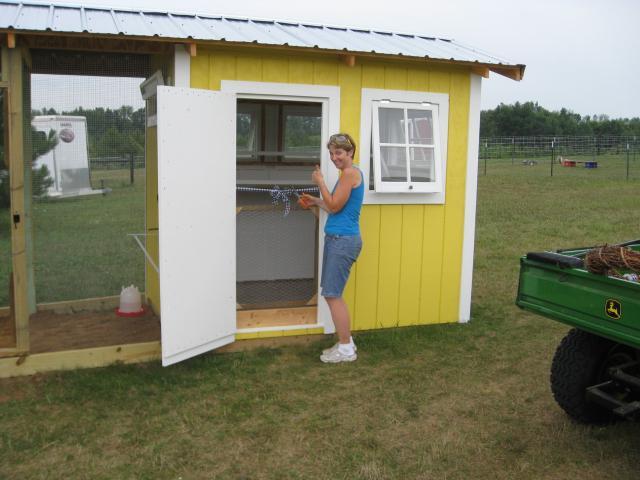 NOW it's move in time.
Transportation provided from the crowded brooder in our shop to the new "cottage".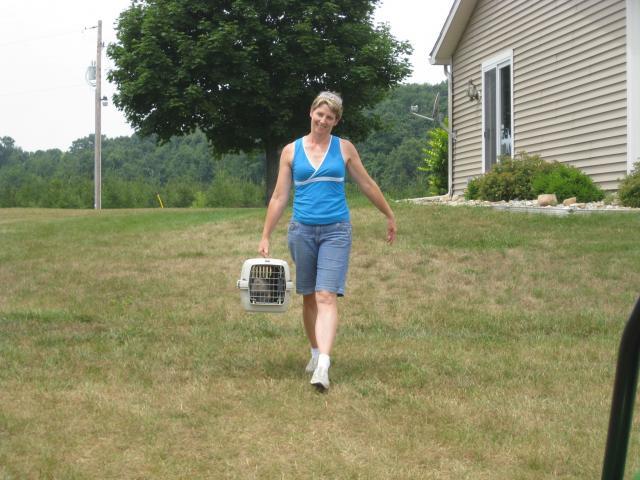 Settling in with part of the neighborhood welcoming committee.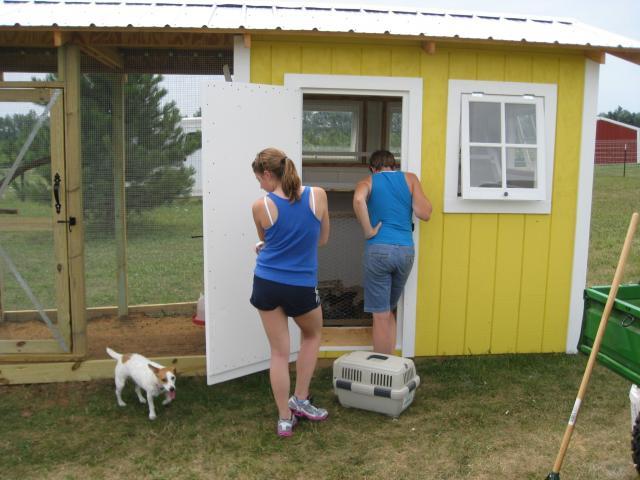 A project completed (almost)!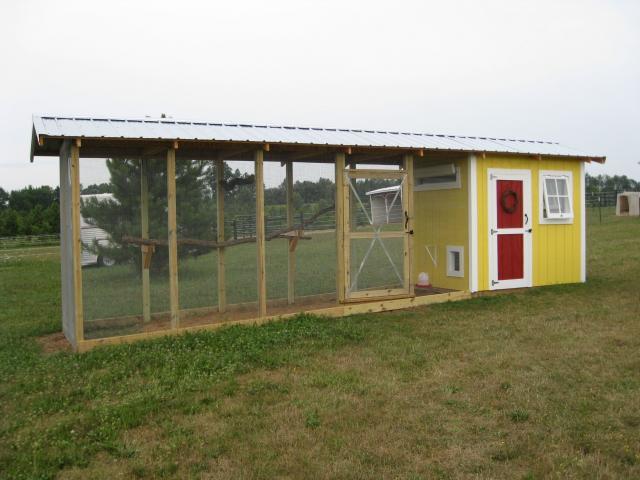 I have had a blast planning and designing and getting so many great ideas from this forum. This project took more time (and $) than I anticipated, even though we used a lot of materials we had collected from other projects, partly because my husband is an engineer through and through. (When in doubt, build it stout!) And because it had to be CUTE!
A few things left to do are:
Add electricity for pop door motor, water heater in winter and potential heat lamp if needed.
Salad bar planter in run.
Poop boards/covers?
The ladies (3 EE's, 4 PBR's, 3 SLW's) seem to be very content and I can't wait until part of my daily routine with them is collecting beautiful blue/green and brown eggs.
Thanks to all of you for your inspiration and for looking at our coop.