The Chicken Garden
by Mike & Christine​
One of the greatest benefits to raising chickens is the abundance of fertilizer they so freely provide while eating weeds and bugs. So it only makes sense that chickens and gardens should go together. Or should they? Follow along through the trials and tribulations as we build our chicken garden.​
​

The Best Laid Plans​
If the chickens and the garden are meant to be together then a plan would need to be developed. For starters we would need a place to house the birds and keep all the related tools and supplies. A quick search of the barn left us with some old doors and windows, concrete blocks and some old kitchen cabinets. Once we measured the doors and windows that we wanted to use we were able to develop a floor plan.

​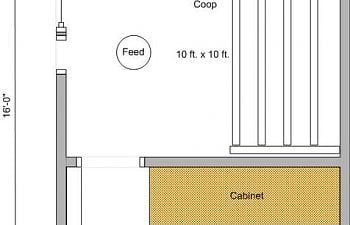 ​
The building will sit between two separate fenced areas. One for a chicken run, one for a garden to be alternated each year providing labor free fertilization. Just let the chickens do their thing. A small composting area will be a shovel's throw outside the coop door.​
​
The North wall (bottom of floor plan) will have two small windows with a windowed door in the center. This part faces the house so we may add some window boxes under the windows to dress it up a little.No reason why it can't be cute.
​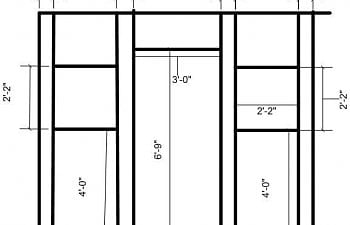 ​
The prevailing winds here come from the west (right side of floor plan), so we wanted to minimize the amount of openings on this side to prevent drafts during the winter months.​
​

The East wall has a long skinny window to allow morning light to stream in and wake everyone up.​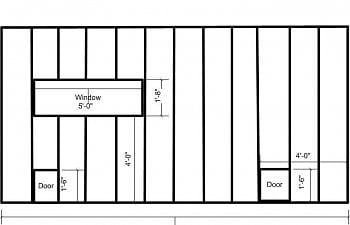 ​
The South wall (top of floor plan) will have a large window and a windowed door to provide passive solar heat in the winter.
​
See the
construction
.
Check out the
interior
.
Tour
The Run
.
​


​


​
​