Come check out hundreds of awesome coop pages (and a few that need suggestions) in our 2018 Coop Rating Project!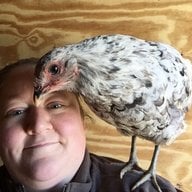 Loading...

Loading...

About

Location:

Real Name:

My name is Ashley. I started raising chickens in March 2013.

Just a small backyard flock, enough to provide me with wonderful, colorful eggs!

Interact

Signature

Current flock: Sumatra hen, blue partridge Silkie cockerel, and 57 misc breeds of chicks/pullets

My family has 4 Aussies named Patches, Roxy, Ditka, and Salami.


Breed Bucket List

(10 items)

Loading...

Loading...