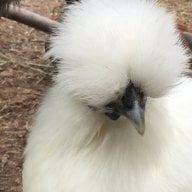 Arya28
Chillin' With My Peeps, Female, from Pennsylvania
Arya28 was last seen:

Jan 10, 2018
Loading...

Loading...

About

Gender:

Female

Location:

What's your main reason for joining our community?:

To talk about chickens and share chicken information!

Interact

Signature

Pretty obsessed with chickens! We have Ameraucanas, Easter Eggers, Svart Honas, Black and Blue Copper Marans, Cream Legbars, Silkies, Buff Orpingtons, Silver Laced Wyandottes, Rainbows, Black Sex-Links, ISA Browns, Porcelain d'Uccles, Spitzhaubens, Barred Rocks, an Australorp, A Silver Duckwing Old English Game Bantam, A Buff Cochin Bantam, An Olive Egger, and some Guinea Hens.

Loading...