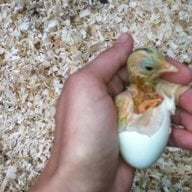 Aumlet
Chillin' With My Peeps, from Carlsbad, Ca.
Aumlet was last seen:

May 5, 2016
Loading...

Loading...

About

Interact

Signature

Chicken Math
* Waffles (Buff Orpington); Lavender & Sparkles ( Ameraucanas); Daenerys (Bantam Cochin mix); Duster (Tolbent Polish/Silkie); Mo (Silkie/Cochin); [Peep the pocket roo rehomed]; Princess Bubblegum and Blue Ivy (OE's ); Pearl, Aspen, & Jacquette, half BCM half Peep the re-homed rooster Peep; Pollito the ultra bantam EE.
* Cinna the Bossy Coop Bunny & Thumper the Lionhead
* Four cats, Two dogs, One awesome kid
* Jasmin the Andalusian horse

Loading...

Loading...