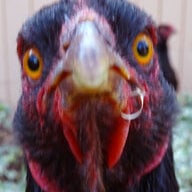 Loading...

Loading...

About

Location:

Website:

Want to meet Randy Rooster, Odessa, Farm Dog Jesse and the rest of the flock? Come visit my farm at blogachick.com

Hi All,

I am an old hippy chick writer. I live in the city but have turned my backyard into a farm where I grow organic food and dance amongst the chickens. I began my farming career several years ago after reading yet another headline telling me that the American diet of processed, sugar laden, chemically-enhanced, genetically-modified food we are eating is making us sick. I went in search of a healthier diet and found a new way of life. As for the chickens, I brought them home for the eggs. Who knew I would fall in love with them?

I've spent a lifetime as a city gal so reinventing myself as a farmer has been a challenge. I am a work in progress and I've come here to connect with other chicken people, learn from them and exchange stories.


Blogachick

Interact

Loading...

Loading...