If this is your first time on BYC, we suggest you start with one of these three options:

If you're already a member of our community,

click here

to login &

click here

to learn what's new!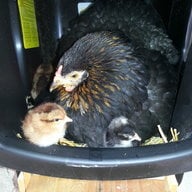 Loading...

Loading...

About

Interact

Signature

Currently our chicken family consists of Bantam Blue Wheaten & Wheaten Ameracuna's, Bantam Welsummer, Bantam, Bantam Silver Laced Wyandotte, Bantam New Hampshires, millefleur D'unccle, a blue sizzle, white silkies, RIP Aggie. Stella and Becky our special needs hens. We have had backyard poultry for over 30 years We are a NPIP Certified flock NH15-226.

Loading...

Loading...