If this is your first time on BYC, we suggest you start with one of these three options:

Not a member yet?

join BYC here

& then

introduce yourself

in our

community forum here

.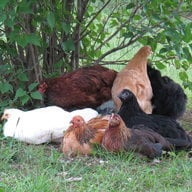 CackleBabies
Chirping
CackleBabies was last seen:

Sep 8, 2018
Loading...

Loading...

Interact

Signature

First time chicken mom of 11: Petals (RIR), Buffy, (Buff Orpington), TwoPenny (Black Australorp), Matilda (RIP White Leghorn), Maxine (Partridge Cochin), Shaggy (Black Silkie), Brewster Cogburn (Buff Brahma), Luisa (RIP silver laced wyandotte), Daisy (speckled sussex), Cornbread (coocoo Marans), Frankie (white leghorn/siklie cross), Lottie & Dottie (buff brahma bantam & buff opington cross)

Loading...

Loading...