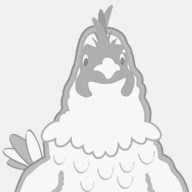 chicken-rooquacks
Chirping
chicken-rooquacks was last seen:

Apr 27, 2019
Loading...

Loading...

About

What's your main reason for joining our community?:

specific questions that stuff like wikipedia won't answer fully.

well, 'bout a year ago, it was FINALLY time to fulfill my childhood dream of having a humane, free-range backyard chicken farm, where all of them would have names, hens could live out their entire life expectancy, (instead of getting slaughtered after they stopped laying), and i could have my very own rooster to keep it going! i started out my flock with adopted chickens and one rooster, hoping one day i would eventually have a hen decide to incubate some mutt-offspring from the sire & it'd be a self-sufficient mutt-flock, born from what i was told were..."adopted purebreds." (the beauty of this idea, my rebel self enjoys!!...hehe. )

However, one year later, still no mutts had emerged, for despite all of my efforts to keep them protected, the free-range bliss has turned out to be...well...bliss with a side of predator-city. before i had a locked coop, i lost most my layers to night-predators. and even now they're safe at night, day-predators readily come here to feast. this is ok with me, though, as i know i don't own the land (as humans like to think they do), i share it with starving Wildlife, & honestly, they were here before me. so it seems only fair a few live life to the fullest, only to die young.

Thankfully for me, it is a hobby, not a production-farm. i simply have these instead of having a pet dog. turns out it's alot less holes in my pocket, yet just as rewarding to the heart.

True; they may depend on me for food, shelter & water, but one thing's for certain: i don't own the chickens, they own themselves.

Interact

Loading...