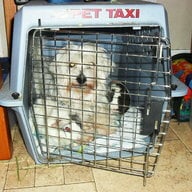 Loading...

Loading...

About

Location:

Real Name:

who wants to know? fine it be deh crazy chikn lady!
really? you REALLY want to know?
i won't tell you!

Interact

Signature

I haven't updated this thing in forever, jeez, I have 1 hen and chick pair, 7 other adults who lay very well, 5 presumed cockerals and 2 pullets. I also have a Cute little doggie named Sophie, she's in my picture with my two deceased guinea pigs

I have a pet alligator snapping turtle and a gopher tortise that enjoys being fed, she just lives in the yard.

99.999% of girls would die if Justin Bieber appeared at their doorstep and asked for a date. If your that 0.0001% Who's wiping blood from your fist, put this in your siggy.

​

Loading...

Loading...