Come check out hundreds of awesome coop pages (and a few that need suggestions) in our 2018 Coop Rating Project!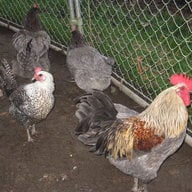 Loading...

Loading...

About

Interact

Signature

"God feeds the birds but he doesn't throw it into the nest"​

Blessed with a wonderful spouse and kids along with a multitude of animals. My chickens are mostly blue copper marans but a few "fun" ones and my dd lavender bantam ameracauna's and serama's as well. I also really enjoy my saxony ducks and call ducks.

Loading...

Loading...

Loading...