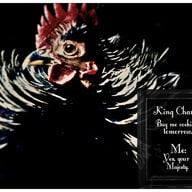 Earthologie
Out Of The Brooder, from Continental
Earthologie was last seen:

Nov 14, 2012
Loading...

Loading...

About

Location:

Real Name:

Sammie

Website:

http://www/myspace.com/abextra_abintra

Interact

Signature

Blessed with two children, a dog and her pup, the first chicken I ever owned: a black silkie hen, 4 Frizzle Serama Chickens, 4 Bantam Splash Cochins, 4 "Tetra Ameraucanas"! And searching like mad for the flock of my dreams: FAVEROLLES OF ANY COLOR! (so long as it is a broody strain, LOL)

"And in the middle of Here and Now, don't you think that we might see each other once or twice?" ~ Jonathon Livingston Seagull

Loading...

Loading...

Loading...