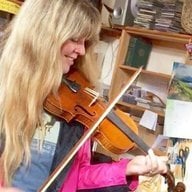 Gender:

Female

Home Page:

Location:

Occupation:

Wife; Mom; Musician; Gardener;
FiddleChics
Songster, Female, from East Coast - Jersey Shore
Just got my first addition to the flock... from a reputable hatchery, and I can't say how happy I am! Added Easter Eggers! I'm in LOVE! Apr 5, 2019
Loading...

Loading...

About

Gender:

Female

Home Page:

Location:

Occupation:

Wife; Mom; Musician; Gardener;

Real Name:

Jennifer

My Coop:

What's your main reason for joining our community?:

Looking for a community that knows & loves their chickens. I always seem to have questions & concerns about the proper, healthy & loving care of my little flock of feather hearts.

I'm a barefoot fiddler, working musician, singer, writer of songs & poetry, avid outdoor girl, passionate gardener & cook, herbalist, kombucha brewer, wife & mom. (not necessarily -all in that order!) I truly love my hens & my little coop... it's definitely my happy place! Time spent out there with the chicke girls - is good for my heart & soul! I love to laugh, and have a knack for finding silver linings in most things. My best sidekick's a somewhat psycho, but very devoted Border Collie... and I have two smooshy & lovable kittys, a bubba of a horse, a squeaky guinnea pig... and I'm usually very friendly, but not quite tame.

Interact

Signature

My sweet flock consists of Red Star/sex links; Black Australorps; Buff Orpingtons; Blue Easter Eggers & regular Easter Eggers... making their lives as beautiful as I can, is my goal! Love my little feather hearts!

Loading...