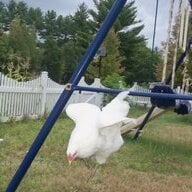 Gender:

Female

Location:

Occupation:

chickens
flappychicken
Songster, Female, from NH
Hi! Howa re you going today well I tried... Apr 5, 2018
flappychicken was last seen:

Feb 13, 2019
Loading...

Loading...

About

Gender:

Female

Location:

Occupation:

chickens

Real Name:

Amelia

What's your main reason for joining our community?:

I love chickens and I love all other birds. And I also only have like 2 friends who like to talk about chickens with me so I would LOVE LOVE LOVE to talk birds all the time!!! :D

I love chickens so much that I have had one chicken named sully, ok she was getting picked on as a CHICK and it was BAD. so I took her into my bedroom and she stayed there until my dad kicked her out (1 month later) but we bonded and when she started living outside the only time she would get happy, was if I were there playing with her letting her out hugging her (she is the only chicken who liked to snuggle with me.) and when I went off to the fair (which I stayed at the whole 3 days) she was VERY LONELY so when I came back it was like I had been gone for years she was SOOOOOOOOO happy. But then my dad said I needed to get her friends and I knew she had two friends in the other coop. one was a jersey giant and the other was an ameraucana. and they lived out the summer and fall together in a crappy little house made with lath and chicken wire with a tarp pulled over it all to keep them warm on the cold nights. then my dad built them all a SUPER nice house and they love it. I have taken Sully (My chicken) to a family reunion, a beach, up mount pawtuckaway, to a cory, a swamp, a 4-H avent, and walmart. but now we figured out that she was a guy and I had to let him mingle with other chickens, our bond has faded out quite a lot, but I can still snuggle with him at night before he falls asleep. he like David Bowie's space Oddity A lot. but He has given given me up for girls (of course(typical teen) but I still love her.

and that is my story
HAVEAGOODONE!!!

Interact

Loading...

Loading...