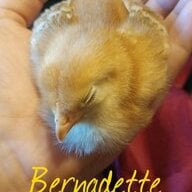 HarmonyFox
Chirping, Female
HarmonyFox was last seen:

Dec 23, 2018
Loading...

Loading...

About

Gender:

Female

What's your main reason for joining our community?:

Would love a community where I can ask poultry questions. I'm still pretty new so I can have a lot at times and don't always find the answer when I google it.

I didn't like "large" birds as pets at all really. I had a parakeet when I was younger and that's as big as I would go because I found their poop gross. A little over a year ago though our friends were moving to another country and needed a new home for their chickens. We certainly had the land and liked eggs so we told them we would take them. They were so sweet and only wanted cuddles. I had never bonded with a bird before and all of the sudden I loved chickens. I still found ducks gross but then the following year I got ducks and they became adorable too. Now we have chickens, ducks, turkeys, and guineas and I love them all so much that their poop is suddenly less gross lol. I litterally can't imagine a life without birds now. The only downside though is the fact that then I go to get 2 baby birds or 4 baby birds I somehow come home with double what I was planning to get. I never understand what happened.

Interact

Loading...