If this is your first time on BYC, we suggest you start with one of these three options:

Not a member yet?

join BYC here

& then

introduce yourself

in our

community forum here

.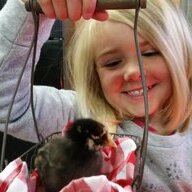 hdbrat84
In the Brooder, from North Carolina
hdbrat84 was last seen:

Sep 29, 2016
Loading...

Loading...

About

Location:

Real Name:

Britt

Interact

Signature

BrittBrat
1 Welsummer-April
2 Buff Orpingtons-Pickle and Effy
1 Easter Egger-Minnie
2 Blue Andalusians-Posie and Lucy(who are actually not blue so one Splash and one Black)
1 Cuckoo Maran-Pepper
2 Black Australorps-Olive and Abaline
1 New Hampshire Red-Ginger
1 Dominque Roo-Drax the Destroyer
1 Silver Laced Wynadotte-ZooZoo

Loading...

Loading...