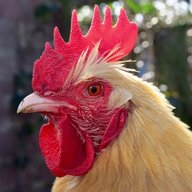 Gender:

Female

Birthday:

April 22

Location:

Occupation:

Photographer
Hybridchucks
Queen Of The Coop, Female, from Burdsville
Premium Member
I live on rip vine :3 Jan 18, 2019
Hybridchucks was last seen:

Feb 17, 2019 at 12:23 PM
Loading...

Loading...

About

Gender:

Female

Birthday:

April 22

Location:

Occupation:

Photographer

Real Name:

Ya'el or Tov

My Coop:

What's your main reason for joining our community?:

Because it's the best site EVER

I have an Allotment (rented garden) with 9 hybrid, egg-laying-machines.

The hens are called Queeny (almost 6 years old), Scarlet, Polly, Rowen, Ronda, Elsa, Anna, Alexa, and last but not least.....Charlotte (the escape artist). (RIP Ginger, Amber, Ruby, Gabby, Little Red and Speckled)

Two Khaki Campbell ducks, Claudia and Caramel.

And there's Pippin, he's a Call drake I hatched, he's all grown-up and very handsome, he lives at the allotment with the ducks.

My three precious Buff Orpingtons, Casper, Agnes and Mabel. The girls aren't laying yet, and since Cassi is a cockerel he will never lay

Casper is the sweetest, most chill lil dude in the world, if I've been away for more than a day and finally come to hug him he stretches his neck out over my shoulder and cuddles me

And the girls, when in good moods, jump onto my shoulder and go to sleep

they're angels.

I have an Aviary my Dad made me, and in it I keep my 8 quail, Duke and Lizzy (the parents who went broody and raised all 6 of them by themselves), Bree, Remmi, Alfie, Hazel, Primrose and Prince. Not 100% on their genders yet. Not forgetting Juniper, my ex feral pigeon whom I rescued along with her mate, Jackson, who flew away and left her awhile ago

. (RIP Reggie and Rita, son and daughter of Jackson and Juniper

)

Juniper lives with the 8 quail and she is the current boss of the Aviary.

My mother asked me if I wanted a pair of Diamond doves and I was overjoyed to accept! So I am currently looking to buy them. They shall live in my aviary, and when me and my family move to a house closer to the allotment I'll be able to be with them a whole lot more! Diamond doves are pretty expensive, so when they breed I can get quite a mint of money from them! What will I do with the money you say? What a question! I shall buy more birdssssss!!

_____________________________________________

And the two house pets are Tiger and Mickey. Mickey is my male blue budgerigar, He's best friends with Tiger, he preens him

And most importantly, Tiger. He is my very best friend and gorgeous companion. He's a Chinese Painted Quail. (the other names for the breed are; Button quail, Asian Blue Quail, King quail and such.) I am positive he's the tamest quail in the world, he adores hugs and absolutely loves attention, we hang out together most of the time.

He is going on five years old. I hatched him myself

(UPDATE; Heartbreakingly....my little boy passed away on the 12th of January, 2018.

I miss him terribly, but life must go on

I will always remember him as the best thing that ever happened to me.) -6th Feb, 2018.

(UPDATE; Mickey passed away shortly after I brought home a new budgie to be his pal, so after he passed, I bought another for my newest and they're a happy little couple now. Verde (Italian for 'Green' and Cielo (Italian for 'Sky Blue')

)

_____________________________________________

Current house pets;

4 Zebra Finches, surprise present for my Dad, their names are Spock (male), Zeppo (male), Zebbie (female), and Willow (female). They're the sweetest thing ever.

Two budgies, Cielo (female) and Verde (male) my budgies. Lil brats

And that's it for now. Knowing me, I shall have to update everything again lol. Always new animals at my place.

13 Chickens

3 Ducks

8 Quail

1 Pigeon

2 Budgies

3 Zebra Finches

2 Diamond Doves

= 32

Love my babies.

Please take time to follow my Instagram Photography account!

https://www.instagram.com/_tovphotography_/

-Tov

Interact

Signature

Rescuing too many animals, missing my dear Quail and strumming on my ol' ukulele.

Loading...

Loading...