If this is your first time on BYC, we suggest you start with one of these three options:

If you're already a member of our community,

click here

to login &

click here

to learn what's new!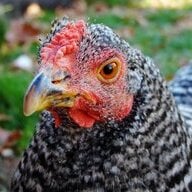 K-12 Chickens
Chillin' With My Peeps, from Michigan
K-12 Chickens was last seen:

Nov 13, 2016
Loading...

Loading...

About

Interact

Signature

I am a Roman-Catholic Chicken Girl and proud to be one! Proud owner of 1 Easter Egger rooster, 2 Buff Orpington hens, 2 Cherry Egger hens, 4 Barred Plymouth Rock hens, 1 white Silkie hen, 2 Easter Egger hens, 1 Mille Fleur d'Uccle rooster, 4 Dominique pullets, 1 White Leghorn pullet, 1 Silkie X d'Uccle cockerel and 1 Black Star hen!

Loading...