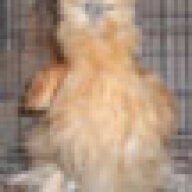 Loading...

Loading...

About

Interact

Signature

We now run Playin Chicken in Elizabethtown, KY!

We raise and breed exotic chickens & ducks!

Our breeds: Gold Laced, Silver Laced, White Crested Blue, Black Crested White and White Crested Black Polish, White, Buff and mixed colored Silkies, Golden Sebrights, Frizzles, Sizzles, Polizzles, Sultans, Pultans, Pekins(jumbo & crested) and mixed Runner Ducks!

We are also voluntary participants in the NPIP program, have had our entire flock blood tested and received a clean bill of health from the State of KY! Certified Avian Flu clean as well!

We are looking for Tolblunt Polish eggs or babies, we'd prefer to trade for them...

Loading...

Loading...