If this is your first time on BYC, we suggest you start with one of these three options:

Not a member yet?

join BYC here

& then

introduce yourself

in our

community forum here

.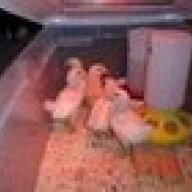 Loading...

Loading...

About

Location:

Real Name:

Michelle

Interact

Signature

5 white leghorn hens, 1 RIR roo, and 5 of their babies (4 hens, 1 roo) mostly all of them light golden colored or light brown with black flecks throughout (11wks). Planning another hatch in May '10! (PREVIOUSLY)

NOW.... 2 pekin ducks and 4 Buff Orphs....all almost 12 weeks old, unsure of sexes!

Loading...