Come check out hundreds of awesome coop pages (and a few that need suggestions) in our 2018 Coop Rating Project!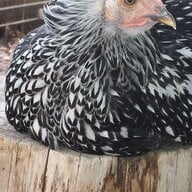 Loading...

Loading...

About

Interact

Signature

1 DH, 2 college kids, a crazy Lab and 12 chickens (3 Australorps, 1 Buff, 1 SLW, 1 RIR, 1?, and 2 handsome Roos: 1 EE and 1RIR)
The most fun I ever had spending money on eggs!

Loading...