If this is your first time on BYC, we suggest you start with one of these three options:

If you're already a member of our community,

click here

to login &

click here

to learn what's new!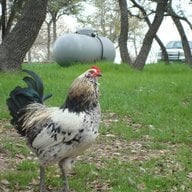 TinyBirds
Chillin' With My Peeps, Female, from Texas
TinyBirds was last seen:

Jun 24, 2017 at 10:52 PM
Loading...

Loading...

About

Interact

Signature

I love chickens! We currently have 10 chickens (3 australorp pullets, 3 australorp cockerels, 2 easter egger pullets), and 2 bantam d'uccles (1 hen & 1 rooster). We have 17 saipan chicks, 3 naked neck chicks, and 3 white laced cornish (males). They are 3 weeks old and out in a big chicken tractor. We have silkie eggs in incubator and a whole bunch of bantam chicks in the GQF brooder. We also have 36 sheep, about half male and half female of different ages, and we don't remove their tails or testicles because we think that is too painful for them.

Loading...