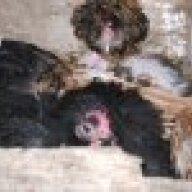 Loading...

Loading...

About

Interact

Signature

Married to a Great DH, Dog mommy to Lexi(sharpei/lab) and CeCe(border collie/sheltie), keeper of parakeets, 3 horses, 2 ponies, and wannabe breeder of Blue Cuckoo Marans, Norwegian Jaerhons, Asst bantam cochins, silkies and barn yard mixes!!

Come check out the cheesiest thread in BYC- the WI cheesehead page!

http://www.backyardchickens.com/forum/viewtopic.php?id=245700&p=1303

Loading...

Loading...