This is my first post in some time. We don't really want to let any of our ducks go, but our flock has gotten too big for our little duck house. I'm not really sure what removing the males will do to the hens. I'm a bit worried that they will miss them for a time but we don't have the room to breed any more and the males are causing a lot of trouble with establishing the pecking order. They would not pose for the pictures so I had to hold each in one hand and take the picture with the other. They are pretty small ducks and very quiet compared to the hens.
The oldest drake was sold to us as a call duck but we believe he is a little bit of a mix. We would love for them to go to good homes that will give them room to roam and offer protection.
7 year old Richard is at the end of his molt. His flights are just about halfway in and no curly tail feather yet. Mallard call, mixed coloring, yellow feet.
3 year old Crumbles, is also finishing his molt.
mix breed call with two-tone feet. He is a family favorite and very cute. It will be hard to let him go.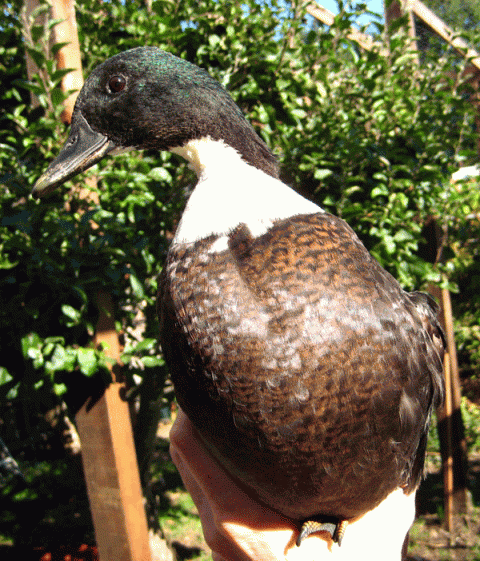 3 month old Daffy is pretty much all feathered out and ready to become a closer pet or join a new flock. Mix breed call with black feet, mostly black/green body and one white flight feather on left wing.