Hi everyone!
Im going to have this type of coop/runner for 3 silkies.
The coop itself is going to be 4ft x 4ft.
Where do I put their food and water? Inside the coop or outside and where exactly?
Also I live in a rainy state and I mean it rains,rains and rains in Washington! lol...Should I put plexiglass around a portion of the lower part of it so its not wet in the runner area?
And lastly is a heat lamp okay in a small coop as this on say a 100 watt bulb at night or what is a good wattage on a heat lamp? They are now 6 weeks old and will be the only ones in this coop/runner Im wondering if they might need a heat lamp if it gets too cold for them on some nights?
As usual its a newbie asking some questions for you folks!

...... but your suggestions are greatly appreciated!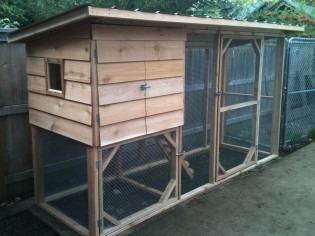 Last edited: