I have 6 six week old chicks, 3 Delawares and 3 Australorps. They're completely feathered out and outrowing their playpen brooder (that's in my living room). It was suggested by a friend who also has chicks from the same hatch that the chicks are ready to move out into the coop outside. Here are a few of my concerns...
I have 1 Easter Egger hen left from a previous flock of 4. She's a good hen who when 2 of the other girls from the flock were sick (with what we presume is Mareck's) she didn't peck at them. She was around them for several months when they took ill and she just went about her business. In the last few days we've introduced the new chicks to Bluebird our "old" hen. First we put the chicks in the run while Bluebird was out free-ranging. She hung around the run, checking them out and didn't make a big fuss. A few hours later we let Bluebird into the run. The chicks immediately pecked at her, which is when she pecked back and showed them who was boss. After a few minutes of antagonizing eachother they went about their business and spent a good chunk of time together supervised and everything was fine. I brought the chicks back in last night and brought them back out to the run this morning. The chicks mingled with Bluebird without any pecking. Though I did find the chicks mostly huddled together and moved together while she was around. I let Bluebird out again today to free-range (the babies are too young IMO). My question is this...if I decide to move the chicks out permanently at this point would you think it's safe? Safe as in Bluebird won't attack and they'll leave her alone? Or should I continue doing what I'm doing...slowly introducing them to eachother?
Another concern is if I decide to move them out permanently are they going to be ready for the temps? Right now in CT the over night temps are anywhere between 48-58 and only expected to get warmer as the month goes on. They are completely feathered out and have been off the heat lamp for about 1 1/2 weeks. I DO NOT want to hang a lamp in the coop (I'm too scared of something happening and a fire starting). Do you think they're ready to be out in the coop with those temps at night? I can close the coop up to hold some heat BUT...I'm concerned that they won't be able to escape out into the run if they need to if Bluebird gets feisty.
Any help would be greatly appreciated. This is the first time I've had to introduce a group of chicks to a "Flock" *L* yes, my 1 hen flock. I want to do everything right so I'd love advice from those of you who have been doing this for awhile.
Thanks!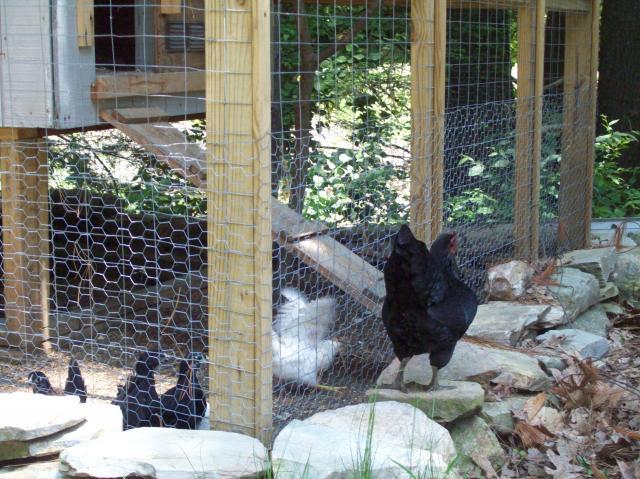 Bluebird checking out the chicks