I bought a small......er coop for my secondary flock that's starting to accumulate. I had originally planned on building an addition onto the main coop but our lack of time and resources caught me off guard so here we are

With buying this used coop there's some alterations needing done to the overall structure to make it first of all safer in my open country area and secondly more functional for my chicken's needs. I have some things in mind I need to do but any and all suggestions are welcome! I'll attach some photos to this post to give a good look at it.
Key Points
-There's roughly a 1 1/2 to 2 foot wide space between it and the main coop.
-The west facing roof opens up on hinges and the lower door opens down for easy egg collection.
-The floor slides out of the slot in the northern wall to make clean out easier.
-There's good ventilation under the roof in the run and on the opposite wall under the roof (frankly there's so many gaps between the barn boards there's too much ventilation risking bad drafts)
Measurements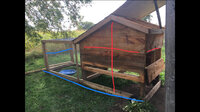 Red lines
-height from bottom of lower frame to top of the peak is 71"
-width (wall against the main coop) is 47" not including the roof overhang
-length of the house is 73"
Blue lines
-Width is 54.5" and total length is 145"
Plans
-swap out the nest boxes for a good ol 2x4 (two 2x2 boards instead?)
-put nest boxes along opposite wall from pop door for easy access
-double check staples and all hardware
-fix all the nails sticking out on the inside bc I'm going to hurt myself worse next time
-make new ramp to run (is a ladder a better option?)
-draft proof around roost bar
-make a cover for the floor board slot
I had thought about extending the run to under the coop as well. Right now there's barn boards going across it so it wouldn't be hard to remove those and then just run some hardwire around the other three sides and they would get roughly a 6'x4' space to work with alongside what they currently have available.
I'm heavily looking for ideas on making the run more predator proof. I need to dig the ground around it so it's sitting level before I do too much. There's not enough room for an external skirting of hardwire with the pasture post right behind it unfortunately.. I had thought about digging inside the run down and laying hardwire down to attach to the framework of the run then just fill it back in with the dirt and grass?
Thank you all in advance!! It didn't save one of my drafts and I can't remember if I have it all there again or not so if I think of anything else important I'll add another post here