Thank you for the welcome. I've learned a lot from you guys - using DE, providing a sandbox, etc. I will post pictures of my sister's when she is finished.
Are you on some property where you can roll the wagon so the chickens can free range?
I have 37 acres and I wish I could let them free range but we have a bad coyote problem. In the past 2 weeks one neighbor has lost 4 of her sheep and another has lost all of her free-ranged chickens. Several times this week, during the day, I have caught them in my yard or heading that way. They almost got my jack russel a couple of days ago. My other problem is my border collie, Monroe. He is obsessed with the chickens.
Here he is stalking them: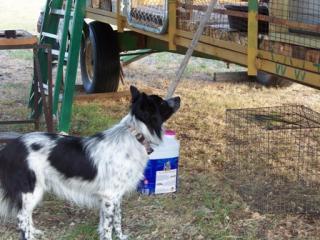 We just take the axles off ours, flip them over, take the torch and cut a door, and voila, instant coop with a roof.
That was my original intention but we are under an extreme burn ban so no welding or torches. So I went with plan B. Plus I like being able to move it.
where did you get the cotton trailer?

I have been looking on CraigsList for awhile and found one in Holbert, OK. I called my sister and asked her how far Holbert was (my BIL sells a lot of his polled herefords in OK) and she tells me that she saw one the other day in someone's pasture about 10 miles from her house & 30 from mine. I paid $325 for it.

FYI if you buy one - I could not drive more than 15 mph pulling it and had to take the dirt roads because it really wasn't "street legal". It took me 4 hours to drive 30 miles. I'm glad that I didn't drive to Holbert as it would have taken me 2 days - lol!

Magnet Chick - my aunt lives in Enid.

Big C - my grandma lives in Quanah. I visited her last week with my mom. I was looking for trailers as I passed through Vernon and Chillicothe cause I'm thinking that I might want another one.​
Last edited: