I was wondering if some of you could give me a critique of my brahma pullets.
good and bad points, flaws etc.
These girls are 4 mo old, hatched in June 2010, im amazed at how HUGE
they are! LOL I knew they were a large bird, but these are larger than
I thought they would be. I really enjoy them, cant wait till they start laying.
These are my group of gold laced bantam cochins, ive always had a soft spot for cochins.
and my beloved mille fluer hen, she is 2 yrs old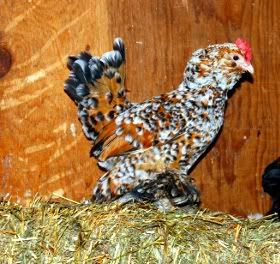 and just for fun, my giant rooster, he is a cornish X that escaped on butcher day, so he is hanging
out in the coop.