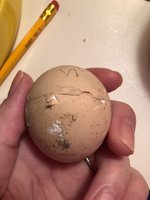 Hi all! We are super excited tonight, watching one of our set pipping himself out of his shell. Just the early stages— he popped last night the first time and now he's got enough of the shell out that we can see his little face when he pips
There was another egg that had an external pip right in the air cell line, (thankful!),
and he must have pulled sometime between 1am and 6am. No further progress from him other than the one pip.
The others (5/7) haven't shown any hatching signs yet.

But 1/7: I dropped, day 18, cracks along the shell but no membrane damage. I worry It was dropped, maybe not viable.
And another 1/7 we thought smelled rank and looked a little too empty, almost tossed on day 22, saved because we were afraid of being wrong.

So, 3/7 remaining, hopefully all strong little chicks by now, still remain.

But because it's so late— day 24— is there a point when we should give up hope on the rest?

A little backstory— we had humidity between 75-90% for the first 12/13 days by accident. We didn't have a gauge. Actually, It probably fluctuated a lot more than just that.
Also, they are shipped eggs so the air cells were saddled in the majority.
Hoping this just delayed hatch timeframes but I would like the opinion of the more experienced!
Thank you!