I was wondering if anyone has had luck automatically controlling two things:
1. Heated waterer
2. Heat bulbs.
We are in Minnesota so winters can get pretty cold. I don't like the run the heat lamps unless it gets down to about 10-15 degrees but don't want to keep manually plugging or unplugging or even turn on or off with my phone. I'd like it to turn on around 10-15 degrees and off if above that. Those little thermocubes turn on at 35 and off at 50+ so total waste for heat lamps. For the waterer I'd like to have it on whenever below freezing - again trying to automate as much as possible.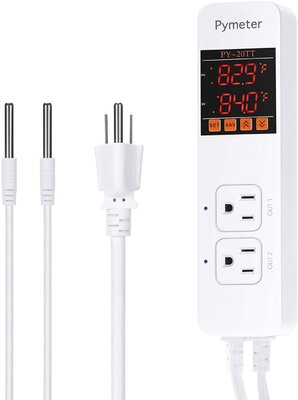 I was looking at this devise.
https://www.amazon.com/Pymeter-Temperature-Controller-Thermostat-Greenhouse/dp/B083Q7YRBM
. Has anyone used something similar or have a better idea? Thanks!