Hi there -
I thought there might be some people here who would like to see the Egglu products in action in winter. We got 15 inches last night and have had ground covering since December. Here is the Cube on the left and the Egglu on the right (an old kids' playground structure in the middle protects my grain and straw bins a bit). They have been dug out. When we got out there this morning, the Cube had snow about half way up it and the Egglu had only about 5 inches of the front door visible. Of course neither door could be opened. The snow was just over my knees deep (i'm 5' 6"). Both structures have already had the snow cleared off the wire runs, and both runs held up fine with 15 inches of heavy snow on them for overnight. Both were covered with greenhouse film except for the front door when winter set in.
Here is a close-up of the Egglu. They are very cozy in their little greenhouse film-covered"solarium".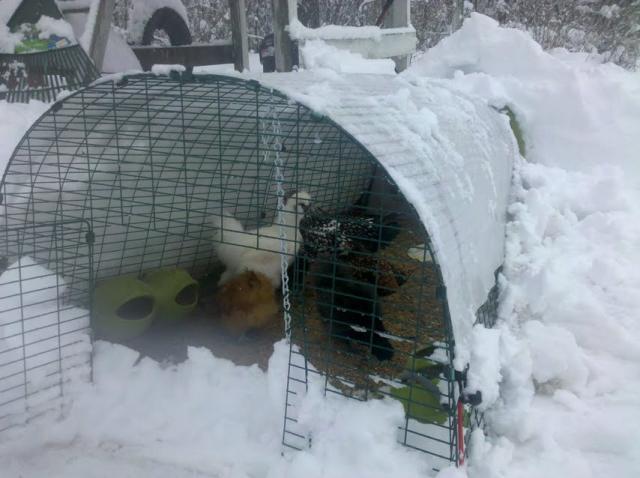 Here is a close-up of the Cube. The door is bigger and the run is not as long as the Egglu, so more snow comes in through the door into their area. They have been fine this year, but next year I plan on extending the run to the 6 foot version before winter sets in to give them more protected area for the "solarium".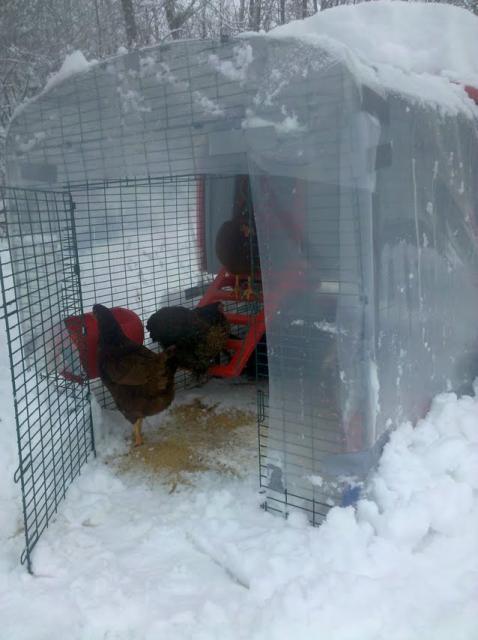 Just thought you might like to see ;-)
Kathleen