Now on to the run.....
We FINALLY got the coop done! The older birds have been using it and the hoop coop (which was only ever supposed to be temporary) for the last couple weeks ever since the babies got here...but now it is REALLY DONE! All that is left is the run and the electric fence, and all that should be knocked out today! FINALLY! It's been such a pain in the butt to round up the chickens, move the chickens, work a little, put them back for the night...wait a day...get a moment....move everyone out...start work again....most of this is due to the fact that it has been HOT! And that makes us all work so much slower!
I can't wait to have them in Coop Knox and be able to sleep at night! Today we should finish the run and then I will be able to rest in the morning as well!
Below are the roosts that my husband was SO very proud if when he figured out what I was talking about:
Then the inside in all it's glory (I think his best friend Frank, who was in charge of nest boxes, went a little over board - same with the DE...I think Frank REALLY went a little overboard with that as well, but at least he is trying)
And the front door, which they fought me on, but I won

They wanted to paint it all white, I wanted reverse barn colors - see?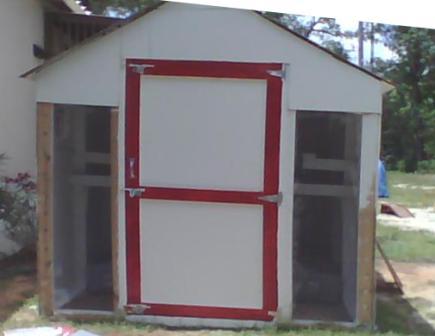 Even though they have already been using it, I still think of today as moving day, since now they will have everything they need - it's exciting to finish something!