Four books for sale -- like new. Only leafed through. Book prices
DO NOT include shipping. I will send media mail or first class as you prefer. THESE ARE GREAT REFERENCE BOOKS!!
An Introduction to Color Forms of the Domestic Fowl by Brian Reeder $15 plus shipping
21st Century Poultry Breeding by Grant Brereton $20 plus shipping
Genetics of the Fowl by F.B. Hutt $35 plus shipping
The Mating and Breeding of Poultry by Harry Lamon and Rob Slocum (cover has a slight crease) $10
Camo hen saddles by Hen Saver. XL which is standard chicken size. Never used but slightly shop worn from hanging in chicken house. $15 for both includes shipping.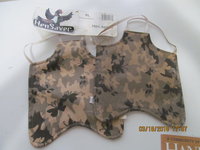 Thanks for looking.
Becky in NoDak