Jun 27, 2011
2,348
204
231
Hi there!
I thought I'd post something here. I live in Connecticut, but I was born and raised in Finland. I've been here for about 11 years now. I work as an assistant trainer/barn manager/instructor for a non-profit rescue farm. Horses have been my life since I was 8 years old.
Late summer of 2010 I got my first chickens, 2 black Silkie hens. I got them for pets. I really didn't know anything about chickens but I thought they were facinating and I ended up with two more chicks, one turned out to be a rooster. One of my black hens sat on some eggs this summer and now I have a bunch more Silkies. Hatching my own chicks was very exciting!

For right now, my chickens are my pets. They're all kinds of colors, mostly blacks and black splashes. Maybe some day I'll get a nice individual to show and get more involved with the show & breeding world of chickens, but for right now I'm happy with my freerange backyard chickens. They make me laugh, every day!

Here is a picture of my handsome rooster Curly (I think he's handsome)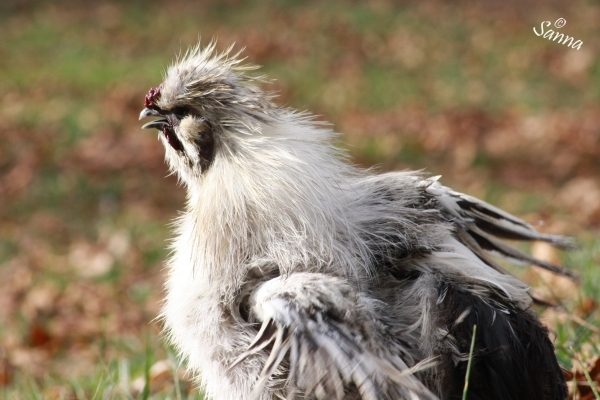 And the chicks from the summer with "mom" Chicken Little.