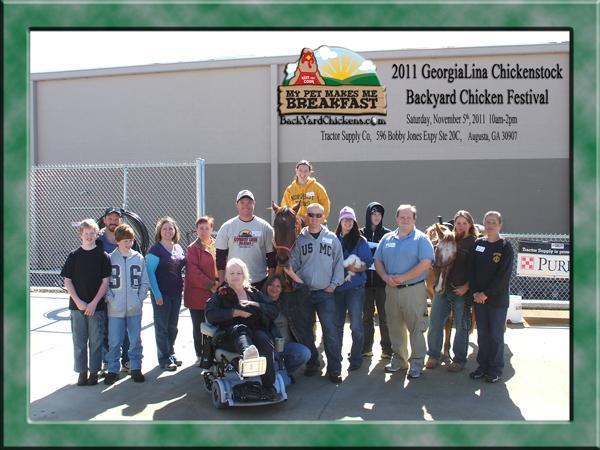 The BYC group photo at
GorgiaLina Chickenstock
will be at 11 in the parkinglot.
All right, the date and place is set for the "GeorgiaLina ChickenStock 2011", November 5 at
Tractor Supply
on Bobby Jones Expressway in Augusta, Ga. Anyone that would like to help organize let me know. This is my first time planning one. I want to make it a fun family affair with games, activities, hayrides, judging... I am open to suggestions and helpers.
I am looking for a horse/pony carrousel for the ChickenStock Augusta. We have a trailer for hay rides and all the hay we want (supplied by
Tractor Supply
). I want the rides and activities to be free. Donations will be accepted and given to "Greystone Ranch Animal Rescue". I also want a small pig for a "catch the pig" game. Catch the rooster is good, also.
*** Just a reminder -to sell eggs off your property in Ga, you must have your candeling license. ***
The following members are bringing/wanting:
Farmer John
- 20-25 chicks for sell. 2 Dels, 2 BO, 1-2 BLRW, and several BR & EE!! I will also have about 10 coturnix quail available! I will have hatching eggs from all my breeds except maybe the Leghorns.
SubUFarmer
- I may also have some young BR 1 Production Red and 1 GC both 24 weeks old and about to start laying; 2 GCs been laying for 2 months and possibly a Americauna mix near point of lay.
Chikcen Pox
- bantams: D'Uccles, Cochins, and many Silkies, INCLUDING PAINTS!!!!!
GeorgiaGail
- mille fleur cochin bantam cockrells, silver sebright chicks and a Buff Orpington that just this week announced he's a rooster.
JustPeachy
- my entire OEGB flock, I have blacks, whites, creles and barred. only about 8-10 chickens though.
Other non BYCers
- RIR's, Cochins, misc. birds
Wants
>TRUE Ameraucana rooster (old enough to be mating)
>Bobwhite Quail (eggs or birds)
>Prebuilt pen/coop
Last edited: