Hi all,
I just set my first batch of duck eggs in my new RCom Suro. Since the Suro is a new-ish incubator, and since there seems to be a lot more chicken than duck hatchers around here, I thought I'd chronicle the experience to add to the already great bank of information around here!
I have a small backyard flock with one Pekin drake, 2 Cayuga hens, 2 Blue Swedish hens, 2 Pekin hens, and one Rouen hen, so the ducklings will be all Pekins or Pekin crosses.
Prior to setting:
I collected 6 eggs on March 1, 6 eggs on March 2, and 6 eggs today, March 3. I kept them at room temperature (low 60's F) in a plain old wire basket until I was ready to set them, raising one end or the other over the couple days when I thought about it, but not on any particular schedule. My ducks do their level best to totally bury their eggs, so they were pretty filthy. Nothing's going to change that particular habit of theirs, so collecting clean duck eggs just isn't going to happen for me, which means I had to wade into the egg washing debates here and decide what to do. I ultimately decided to gently rinse the worst of the muck off with plain water warmer than the egg, and pat them dry. I marked each egg in one place, along the center of its long side, with the collection date with a Sharpie marker.
I fiddled with the incubator for three days prior to setting the eggs, until I was able to get it to maintain a steady temperature of 99.5 degrees F, and a humidity of 55%. My primary problem was getting the humidity high enough. I tried completely closing the small vent hole on top of the incubator, and setting the water pump as high as it would go, but to no avail. I finally solved the problem by putting the larger sponge panel in, which worked almost immediately. The Suro directions say that the small sponge panel should work to maintain humidity of between 45-55%, but it clearly wasn't cutting it in the higher end of that range for me. My room humidity is in the low 30%'s, so your mileage may vary.
DAY 1:
Eggs set at 9 am. Incubator temperature came back to 99.5 F within 20 minutes of closing the lid. Humidity took longer, though. It was at 45% and steadily climbing when I had to leave the house at 10:30 am, so I'd bet it reached 55% with no problem by noon or so. If I'd kept pressing the manual humidity button on the incubator, I probably could have gotten it higher sooner, but within a couple hours should be good enough, I think. Here's the set up: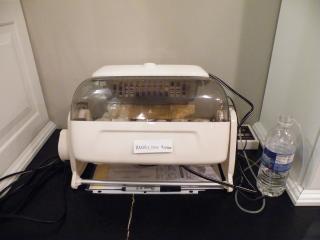 UPDATE ON DAY 1, 5 pm:
Well, humidity didn't rise as I'd expected when I got home at 3:30-- it was only at 48%, so I've had to press the manual pump button several times to raise it. It's at 53% now, so we'll see how it holds.
SECOND UPDATE ON DAY 1, 7 pm:
Ugh! I figured out why the incubator wasn't holding humidity like I thought it would-- I had the top on slightly wrong, so there was a little crack at the back leaking air. I fixed it, and that should mean I've fixed the problem.
THIRD UPDATE ON DAY 1, 11 pm:
Well, the humidity bounced around all evening after I finally figured out the lid for the incubator wasn't on quite right. Once I got the lid on straight, the humidity shot up to around 75%. Of course, I couldn't leave well enough alone, and had to mess with it some to try and lower the humidity. I would periodically take the lid off, wipe out the condensation, and put it right back on. I probably could have (and should have) just let it be, but the fact that this incubator returns to ideal temperature SO fast after opening it makes it really easy. I don't know whether that's good or bad. At any rate, as of 10 pm tonight, the incubator is holding steady at 99.5 F and 55% humidity.
This hasn't been the absolute perfect start to the hatch, but I do know I'm learning more and more about how this thing works each hour. It's really kind of cool! Today's lesson on the RCom Suro (aside from making sure the incubator lid's on solidly): Temperature's not an issue, it will return back to set level within 20 minutes at the absolute outside. As long as everything's on right, humidity will rise 1-2% each time you press the manual water pump button for a 2 minute cycle. Good to know, especially if I want to raise humidity quickly at lockdown.
Hopefully, tomorrow will be MUCH less eventful!
Last edited: