I am new to farming in general i have had friends who have raised chickens and my boyfriend grew up raising chickens but i grew up in the city. I just moved an may and my house came with an already made chicken coop. As of right now i am trying to get as much info as possible so that i will be ready next spring and get some chickens. I am planing on getting 4 chickens as my coop is large but my yard is small. i want different types of chickens and i want chickens that have a high egg count. right now i am considering a Black australorp, silver laced wyandotte, blue laced red wyandotte, and probably a rode island red or buff orpington.
here are some pics of the coup that i have i just cleared out all the dead weeds. i am going to plant grass inone corner with the grass box and hardwarecloth on top which i have seen a lot of people on this group post about hopefully that will attract bugs. we also put our wood pile next to the yard which should bring in bugs and protect one side of the yard from weather. as you can see form the picture because of the tree and the wood pile most of the ward is in the shade. i can take the piece of siding down which would open up the yard to a lot more sun.
i would love any advice as to what to add to the coop or the yard as i have until next march before i can get chicks.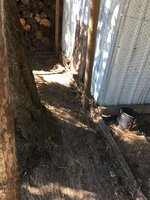 now that that is out of the way. i moved to the country to be able to do small scale farming. i am starting small with the chickens then i want to move to meat chickens and start a small fiber farm with angora goats and rabbits. my main hobby/passion is rescue work all animals but i specialize in dogs, cats and reptiles. for money i am a dog groomer/vacation boarding. I live in northeast Washington about and hour north of Spokane.
i found BYC when looking up how to raise meat chickens and the best way to raise them healthy on a somewhat limited amount of space. since i am getting closer to getting chickens and every time i look something up i end up coming hear i figured i might as well join to get questions answered better.