1) Are you new to chickens / when did you first get chickens?
I made an account here wishfully a couple of years ago, but just finally brought home our first chicks on Saturday. I've wanted to raise chickens for years and I am so excited. Here are a couple of cute pictures.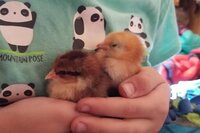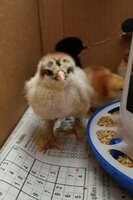 (2) How many chickens do you have right now?
Six
(3) What breeds do you have?
1 Buff Orpington, 1 Speckled Sussex, 2 Brahmas, 1 Australorp, 1 Rhode Island Red
(4) What are your favorite aspects of raising backyard chickens?
I love having something healthy to do, I love animals and I am already loving how happy my kids are helping with the chicks, and of course having fresh eggs! These chickens are really meant to be pets as much as they are for eggs.
(5) What are some of your other hobbies?
Anime, Art, Video Games, Gardening
(6) Tell us about your family, your other pets, your occupation, or anything else you'd like to share.
I am a disabled artist, married with three children ages 4, 10, 6 ( they all have summer birthdays though). My aunt and uncle will also be raising the chickens with me, they did raise chickens before but it's been over 30 years.
(7) Bonus: How did you find BYC, how long have you known about BYC, and what made you finally join our awesome community?

See above initial answer, but also looking for other people that enjoy chickens as well as people who have the experience that I don't.