(1) Are you new to chickens / when did you first get chickens?
I am new to chickens as of last week! I had been thinking about it for a while now, and ended up taking some in during the recent hurricane. My temporary custody of the birds ended up being permanent custody after the owners decided they didn't want them.
(2) How many chickens do you have right now?
Four ... two hens, two roosters. They are apparently about 3 months old, so they're still small and not laying yet.
(3) What breeds do you have?
Thanks to the folks on the board here, we were able to identify them as Japanese Bantams. See photo: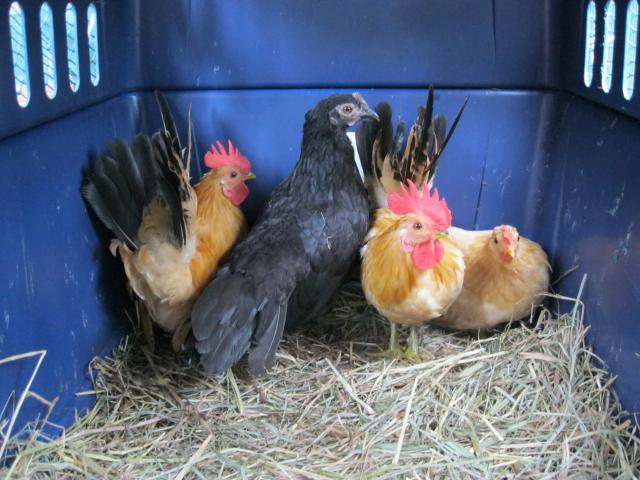 They are, left to right: George, Loretta, Conway and Tammy.
(4) How did you find out about BackYardChickens.com?
While researching breeds and caring for chickens, I kept finding really useful info on your site!
(5) What are some of your other hobbies?
Big music fan, also hockey, gardening, cooking, traveling, photography.
(6) Tell us about your family, your other pets, your occupation, or anything else you'd like to share.
I live in Bay Shore, NY, and have a four-year-old beagle who is still looking at the chickens as "dinner", instead of new members of the family! Hopefully, over time, they'll come to a peaceful coexistence. The birds will have a fenced-in yard attached to their coop to let them roam around while still keeping the dog away from them.
Looking forward to learning more about chickens from the good folks here at BYC. Thanks for the help so far with the breed identification!
George