Hey everyone! I'm happy to have found this forum. My husband and I live in Zephyrhills, FL and we have grown so fond of having chickens and grow our own veggies.
I grew up raising chickens but only your basic Rhode Island reds but it was different times back them and then we lost a lot over the years and didn't have any for awhile.
It was Sunday and we were driving around and seen a brand new store opened! Rural King- now I've never heard of it and OMG I spent a lot of money that day and we took home 6 chicks!
I was over welded at all of the options so I took home an assortment and figured we would see how that goes and I can always add more later.
Well it's been about 10 months now and we have roughly 20-ish chickens and I absolutely love them! There's nothing like relaxing on my back patio and watching them free range it's just perfect!
Here's what I have...I know some aren't pure breeds but to me that doesn't matter. I don't plan on breeding and making a killing. Most of my chicks go to family and close friends.
Roosters:
Splash Satin
Blue partridge frizzled Showgirl
Tolbunt Polish
Hens:
Dominique
Rhode Island Red
Welsummer
Speckled Sussex
Buff Orpington
2- gold laced polish
Frizzled satin
Easter egger
Chicks (sex unknown):
2- sapphire gems
2- Easter eggers
3- silkies
And I'm picking up 2 paint Silkie chicks tomorrow
I have 2 cats, a 13 year old Ragdoll and a 3 year old giant Maine coon cat. Who like watching the chickens but are actually scarred of them haha.
I also love crafting and I make shirts, car decals, tumbler cups and a lot of other random things.
I didn't even know this group existed but after searching online I'm glad to have been excepted here. I know quite a bit but I'm always learning something new and I enjoy seeing everyone else's chickens.
I recently started a little Facebook page just to keep everyone posted on fresh eggs and any chicks I have available I also like to share important information about chickens.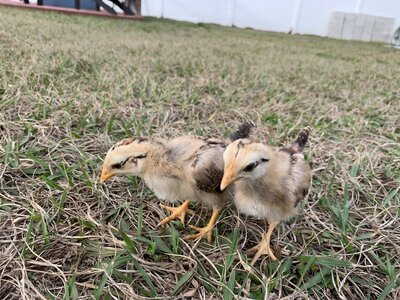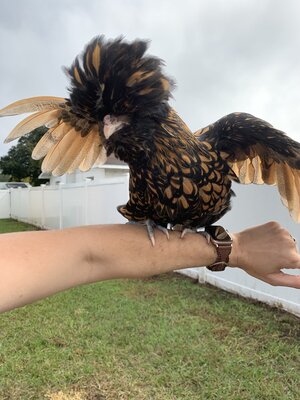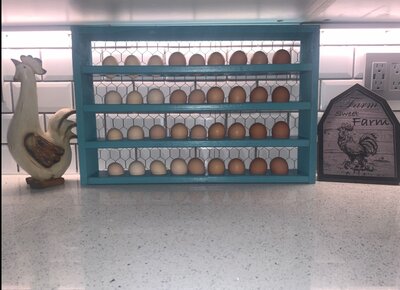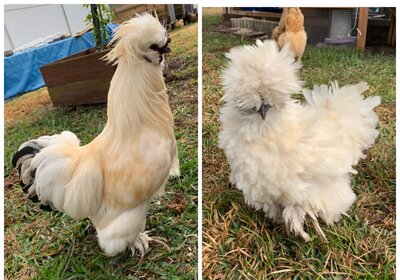 I