Hello,
I've been reading a lot about coop size and flock size, but wanted to ask advise from you experienced folks. We have a great hen house and run we made out of back of our garage. The henhouse is 6 x 8 and the run is 11 x 7. It's nice and sheltered and dry, and half of the run has a roof which turns out to have been really nice on hot days and rainy days too.
We started with 6 day old chicks, 2 RIR and 4 EE's, now 5 months. And one layed their first egg today!!!! So magical! In the nest box and everything. Such a perfect egg. But I digress. So we had one surprise gorgeous roo (who will be leaving next week as the neighbors were just not up for the crowing -plus he's gotten rather rude). And one poor hen was killed by a dog. So we are down to 4. I'm really tempted to add a few, especially since we'd love some Barred Rocks, but I hestitate. In the summer they have had a lot of outdoor time, free ranging. But in the winter I know this will be a lot less frequent. Plus after the dog incident I'm feeling more cautious about all the roaming.
So here are my questions:
Should I add to my small flock of 4?
If so how many?
And if you're feeling really patient, what breeds might work with well with my girlz (I need a friendly, egg laying, cold hardy hen- cute is good too)
Would it be best to wait until Spring and start from nice sweet chicks (my daughters preference? That is if we do decide to add.... Or maybe we should accept my friends offer of a few 6 week old Barred Rocks now?
Thanks! It's great to read everyone's experiences, and to know that I am not alone in being chicken obsessed.
Tanya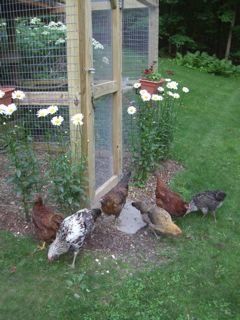 Just for fun