We have had our older chickens for two years. One Rhode Island Red, one New Hampshire Red, one Barred Rock and one Americana (we think). Notice picture on my account for the chickens. When we first got them we had bought a coop from a farm store then added a run area that's enclosed with chicken wire and plastic with a roof.Enclosed area has had an upgrade.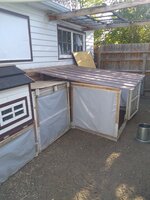 Then feeling that they still didn't have enough I built a second coop. The first coop is where they all sleep and lay eggs. The second coop has also had eggs laid in it and, at times, we have a brooder that claims her territory there (have broke her of this more than once).
We also fenced in a portion for them to roam and let them out to 'free range' in our backyard during the day.
That explained, we bought two Brahma chicks in April, raised them in a dog crate then a small run in our garage until big enough to put outside.
As I am fond of building small coops I built another for them from a small shipping crate. We fenced off a portion of the yard next to the other chickens so they have been look-no-touch for some time and let out for free range together.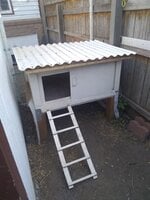 The 'reds' seem to be the aggressors and the Brahma's try to keep their distance. We would like to now integrate them in the fenced area with the newest coop as part of the 'housing complex'. Does anyone here think that I could remove the second coop to make more room or would that stress out the older chickens too much?