A few weeks ago I was hunting around at the OSU surplus sale and spotted an old lab oven, it looked like an incubator waiting to happen. As it already is able to keep a steady temp and is very very insulated the only elements I needed to add were humidity, an egg turner or two, circulation, and moisture.
I had picked up an old PC fan and an adapter at the surplus sale for circulation. I suspected the oven might be convection style so I ended up doing all drilling and sawing in the door, where I knew there would be no water tubing.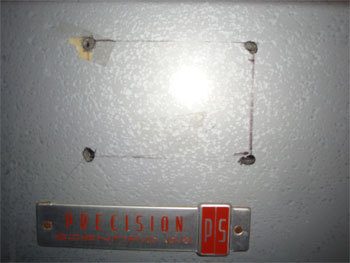 The entire unit is composed of 2 layers of metal sandwiching some fiberglass insulation. I drilled holes through both layers of metal on the door for the PC fan, openings for wires to exit and to be able to fit my jigsaw blade into for cutting. I decided to cover the holes that the wires go through with thick pvc tape that has small criss crosses cut through the middle of the opening so that it would keep the wires from rubbing up against the metal and getting cut. Though loud and time consuming the cutting was pretty easy. 2 layers of 3/16" thick plexiglass makes up the door. This too I found was pretty easy to drill into, you just have to go nice and slow.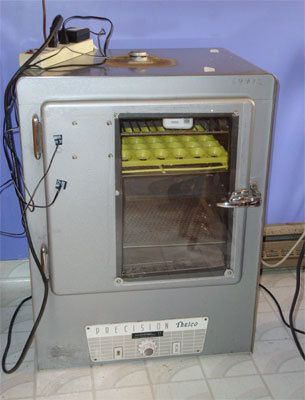 I ended up getting a hova-bator egg turner and cutting one row off so that it would fit.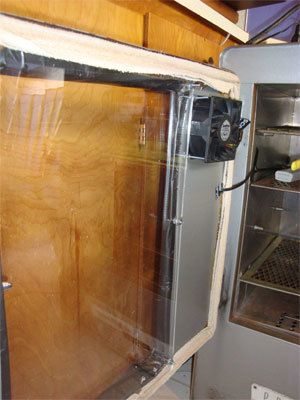 I am very pleased with how it turned out, and didn't have to ask DH for help at any point. Of course it was an ideal contraption to convert, so I lucked out there. It's currently heating up so that I know what to set the dial to for 99.5 deg. Eventually I'll plunk another egg turner or two in there. I'm testing out the temperature stability and how to get the humidity where I want it before I get my eggs in a couple of weeks. I'm going to put a plastic bin with shelf liner in it on a lower rack for hatching.
Edited to add cost breakdown:
Old Lab Oven : $30
Egg Turner: $42
PlexiGlass: $27
PC Fan: $ 2
Adaptor: $ 1
bits & pieces: $10 or so
Digital Hygrometer/Thermometer and remote digital Hygrometer/Thermometer - already had
Total cost: $112 when I add another egg turner it will be $144
Last edited: