Hello,
My 18 month old (free range) hybrid laying hen, Celestial, has come down with some illness or other (that I suspect is egg peritonitis).
-Symptoms noticeable beginning today. She is the only one exhibiting symptoms
-She has been lethargic, awkward and sleepy and stands around with her eyes half-closed. Normally bright and active
-She constantly retreats to her nesting box and sits there as if she were trying to lay (no straining to lay) and has been there most of the day
-Unkempt;no preening
-Normal-ish droppings, mixed with a thick transparent or whitish-yellow discharge; first noticed 6;30 this morning
-I gave her a bath yesterday and cleaned matted fecal matter from below her vent
-No egg layed today or yesterday (at least); known for her large, thin shelled, pale eggs
- Eats idly, empty crop. However I fed her a mixture of applesauce, cooked egg, laying pellets and plain yogurt which she ate slowly
-I have not seen her drink any water, although I suspect she has had some
-I have isolated her in a 'hospital box'(an old brooding box), but as that seemed to make her worse, I put her back with my 5 other hens.
-She is housed in a 4 foot by 7 foot coop with a 6 by 8 foot run and with 5 other hens. She free-ranges most days. The bedding is hay.
-She is not broody
-Also, it has been warmer than usual lately. (In the 20's Celcius, compared to 10-19 Celcius)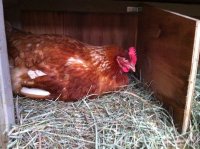 (Here is her sitting in her box)
I am looking for a diagnosis and treatment suggestions for her. She is a valued member of my flock

Thanks
Last edited: