I bought my canary Henry. Then I couldn't bear the thought that all his beautiful singing would never randomly entice a lady bird....so went back to the shop and bought Junebug. June bug is pretty and Henry is smitten. A few months later I noticed one of Junebug's eyes seemed to have a white cloud over the cornea. Poor Junebug was going blind in one eye. THEN a few months after that I noticed that she was having great difficulty building her nest and that she didn't fly around and mainly 'climbed' everywhere so I had a closer look. Her OTHER eye is now cloudy and my poor birdy girl is blind. She seems happy enough, has a bath in her bath every morning, tries in vain to build her nest (rips up the lining and puts it in the water bowl instead). She has actually managed to lay a couple of clutches of eggs and sat on them diligently for weeks but they never hatch. In fact when I've candled them they don't have anything in them at all.
Has whatever caused her to go blind made her infertile? Or is her poor nest building skills meant they can't stay warm enough. Sometimes she thinks the seed dish is her nest. Or is Henry not quite as in love as he used to be because of her disability and shunning her?
I love her so much and her refusal to acknowledge her disability is inspiring. Is it cruel to keep a blind bird? I figure I have this bird for better or worse and I'll try to keep her as comfortable as possible and lavish her wish treats....or....should....I....let.....argh.....the vet put her out of her discomfort?
Is it cruel to Henry that he can't fulfil his desire to procreate?
I'm so confused. Is there anything I can do for her? For them?
Please give me your kind opinions.
Junebug is yellow, Henry is orange.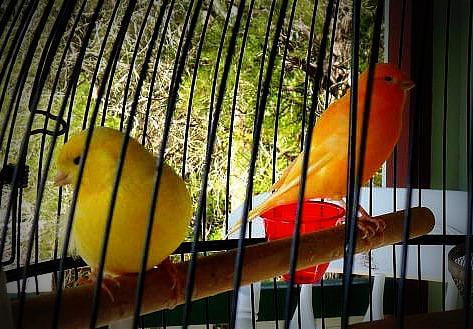 Last edited: