These are my boys. All rescues.
Titan (Left), Argos (Middle), and Cerberus (Right)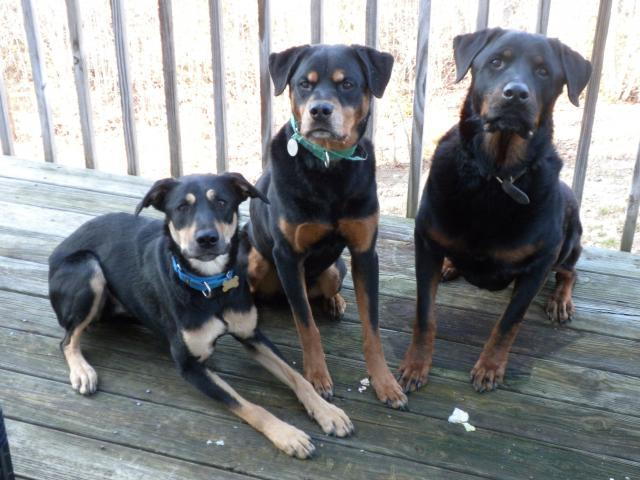 Titan is 2 years old and came from a pound. I was not looking for a dog, but something told me to look on Petfinder. He was listed as a Rott/shep. It was a Tuesday night and it said to contact them by Wednesday at 8 am or he would be put down. I called left messages, emailed, and set and alarm and called as soon as they opened. They told me a rescue was going to take him. Then a day later I got a call back saying a rescue wasn't taking him and to let them know if I wanted him. So he came home. Well I don't see any rott in him anymore. I think whippet/shep. He is my dock dog and it he had wings he would fly.
Argos is 9 years. He came from a Rott rescue in Illinois. His mom had the pups in the pound. She was pure Rott, and they assumed the male that got brought in with her was the father. He was pure Rott. Argos was the dominant pup and my first dog of my own. LOL My friend ran the rescue and knew I had the personality to handle him. He growled at me when I picked him up at 9 weeks old. He is a great dog and aside from having to be put in his place occasionally you would never know he was a genetically dominant dog. I'm not sure what he is mixed with but he has very soft fur and prances with his front feet.
Cerberus was found wandering the streets. All he had was a coller with a piece of tattered lead and a tennis ball. A customer at
Petsmart
called and said she needed to find someone to take him. She had him for a month and could not locate the owners and could not keep him. He came home with me when Argos was 1. He was at least 1 or 2. So I would say he is now 9-10 years old. He is a sweetie. He loves everyone. Especially anything baby. He was abused in his past life and has the scars to prove it.
These are my Rotten boys. One Rott, one half rott and one not rott. LOL
Last edited: