Okay so I have been a member of another forum its UK based since before my Annie had her puppies. Today I made the "mistake" of posting in their rabbit area. I got ripped a new one A. for breeding rabbits they don't think are good enough quality (even though they have pedigrees and winners in their pedigrees) B. For letting my 5 week old kits out on the grass (they say they will get bloat??) C. for letting my chickens near the rabbits (say that they will give the rabbits cocidia ?) D. for wire floors and E. for my "tiny" cages. Now I am not saying I wouldn't like bigger ones. I even stated that in the post, but my cages are not "tiny" the smallest one we use for every day housing is 2' by2' and we use it for our mini rex. We are working on building much larger cages 2' deep by 4' long by 3' high, in those we will supply some area to get off the wire (we are saving up carpet squares 18" by 2'). Even now we try to at least give them a board, but I can't keep all wood/plastic cages clean enough. I need wire floors. Until I get the big cages finished (its a slow process with only one done a month(we both work full time opposite shifts and its hard to find time to work on it) we let the rabbits run for at least a hour every other day in the exercise pen in the grass, weather permitting. We also bring them inside, usually just one or two a week, and they get the run of the house for a day. I am not saying this makes it right, but I am attempting to give them the space they need. I use to have my rabbits running with my chickens and have never had an issue. I mean other people have chickens and rabbits together right? And honestly by together- well I will just post you the picture. The rabbit is in a cage in one half of the garage (winter time) There is a chicken wire and wood wall dividing the two sides. The chickens are on the other side trying to figure out why I am not taking their pictures.
I have never had an issue with letting young kits eat grass, we always like to let the mom and litter out as soon as the kits are big enough to not fit through the sides, it lets them have more room and they love eating the green stuff. Should I be concerned about this?
I have bred much less quality rabbits over time. I felt like these are some of the best rabbits I have had. I posted to share "what I thought" was my beautiful rabbits and I got told that other then my satins, they all are poor specimins who should be sterilized and not used for breeding.
Here are the pictures. I should just learn to stick with BYC. But maybe, they are right?
Buster - R9 - Siamese satin buck
Sage -Sage - Siamese Satin doe
Buster and Sage kits
Sage and Busters 5 month old daughters from second litter last year
Alex - Mini Lop Buck
Eva - Mini lop doe
Ninja - Mini lop Doe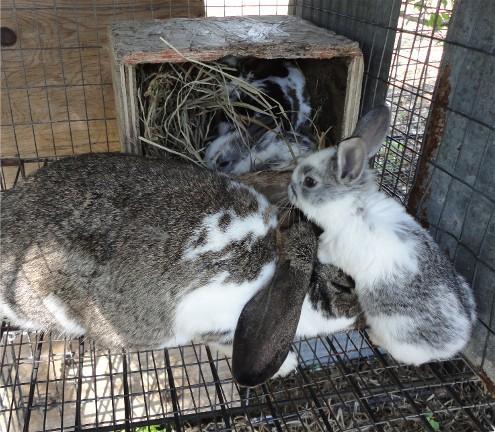 Alex and Ninja kits
Dew- Cedar Bluff's Dew - Mini rex buck
Jane - Smith's Nightmares - Mini rex doe
Dew and Jane's kits